Mitie to half operating theatre cleaning staff at St George's Hospital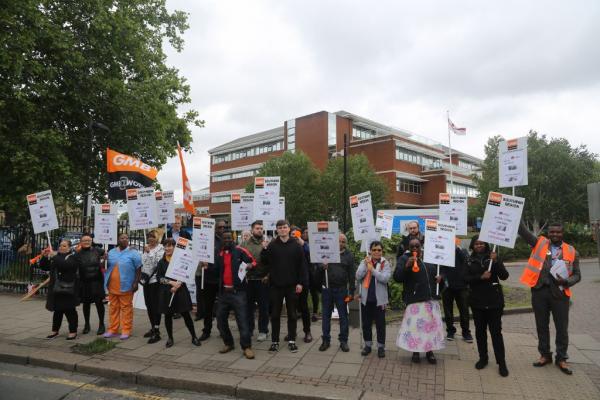 "Any cuts to cleaning in an operating theatre is unthinkable and it would almost certainly increase mortality rates on the hospital site", says GMB Southern
Plans to half the number of cleaners in the operating theatres in St George's Hospital in Tooting were revealed by GMB members in a strike committee meeting this morning (24 June).
The four person domestic teams already struggle to scrub down the floors, walls sinks and floors in theatres in the allocated 5-minute time slot between operations. Mite who have just secured a £150 million contract in St George's Hospital for a further 10 years, now plan to reduce the cleaning staff to two per area as part of a restructure that will see 40 cleaning and hostess jobs go and workers' hours slashed across the hospital site.
GMB has already expressed concerns about hospital cleaners serving meals to patients as part of the plan to 'realign roles' during the restructure.
Helen O'Connor, GMB Regional Organiser said: "Operating theatres are sterile because hospital patients are at their most vulnerable to infection when they are undergoing surgical incision. Any cuts to cleaning in an operating theatre is unthinkable and it would almost certainly increase mortality rates on the hospital site.
"It is also of concern to GMB that we have yet to receive copies of all risk assessments signed off by St George's NHS Trust and private contractor Mitie in spite of requesting them verbally and in writing.
"GMB members are speaking out and taking huge risks in doing so simply because they are so concerned about the impact of these cuts on the welfare of St George's Hospital patients. They are currently being balloted for industrial action by their union GMB and they are getting support from clinical staff, the patients and the public."
Contact: Helen O'Connor 07506 711574 or GMB Southern Press office 07970 114762
Previous GMB Press Release: GMB to ballot members at St George's Hospital over strike action (20 June 2019) https://www.gmb-southern.org.uk/news/gmb-to-ballot-members-st-georges-hospital-strike-action