GMB to ballot members at St George's Hospital over strike action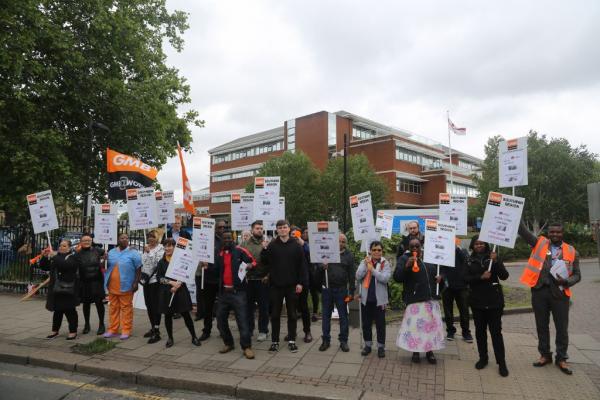 "In light of the recent patient deaths from Listeria it is high time that there was more scrutiny of how companies like Mitie operate in the NHS", says GMB Southern
GMB, the union for staff at St George's Hospital, will next week conduct an indicative ballot of its members at the hospital to see if they want to take strike action over cutbacks being imposed on them by private provider Mitie.
GMB members held a noisy protest outside St George's Hospital last Friday as dozens of cleaners and hostesses expressed their anger at the situation.
Mitie are proposing that hospital cleaners handle patient's food as part of swingeing staff cuts that will lead to dirty hospital wards, contaminated food and increased cross infection risks for patients.
The patients, the nurses and the public showed overwhelming support for the protestors and many asked 'how can we help to stop this?'.
Helen O'Connor, GMB Regional Organiser said: "In light of the recent patient deaths from Listeria it is high time that there was more scrutiny of how companies like Mitie operate in the NHS.
"Our members, who also use the services in St George's Hospital themselves, are proud to work for the NHS and they care about the patients too which is why they are so determined to stop Mitie cutting the hospital cleaning. They already struggle with the huge workload and they cannot understand how Mitie's plans to cut staffing and extend services will lead to 'improved efficiency and productivity'.
"No hospital worker wants to go out on strike but if Mitie fail to provide assurances to these workers they will fight to protect St George's Hospital."
Contact: Helen O'Connor 07506 711574 or GMB Southern Press Office 07970 114762