GMB ISS members to 'March for their Rights' at Kingston Hospital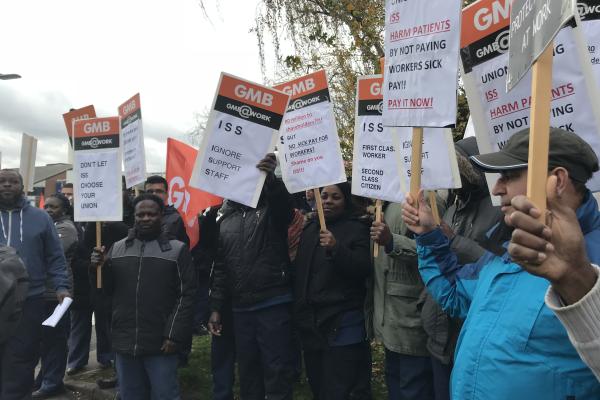 "Our members won't put up with the type of workplace conditions that belong in the Victorian era and they will keep fighting for their basic rights to sick pay and wages they can live on", says GMB Southern
GMB, the union for staff at Kingston Hospital, are holding a March for Hospital Workers' rights on Saturday 2 February.
Details of the March are as follows:
Saturday 2nd February, 12noon
Meeting:
Outside Kingston Hospital
Galsworthy Rd,
Kingston upon Thames
KT2 7QB
Speakers:
Tim Roache, GMB General Secretary
Steve Reed, MP for Croydon North
Barbara Plant, GMB National President
Paul Maloney, GMB Southern Regional Secretary
Private company ISS who hold the cleaning, catering and portering contract at Kingston Hospital continue to refuse to offer a full sick pay scheme to GMB members. GMB members are fighting for sick pay to be granted from day 1 across the ISS workforce.
GMB members have already held two powerful and well attended demonstrations at Kingston hospital on 29th Nov and 20th December and the Kingston Hospital campaign is growing and gaining cross community support.
Helen O'Connor, GMB regional organiser said: "ISS fail to recognise that their award winning workforce are human beings who have to pay rent and feed their families just like anyone else.
"Highly paid ISS managers also known as 'salaried staff' get a full sick pay scheme operational from day one but an ISS worker has to 'earn sick day credits' and in the event they fall sick wait 3 days to get 'sick pay credit' in the event they have accrued any 'sick credit' in the first place. The pay of an ISS worker is so low that if they are unfortunate enough to fall sick they put at risk of hunger and homelessness.
"GMB ISS members are delighted that MP Steve Reed and GMB General Secretary Tim Roache are supporting their struggle and addressing them at their rally.
"GMB members won't put up with the type of workplace conditions that belong in the Victorian era and they will keep fighting for their basic rights to sick pay and wages they can live on."
Contact: Helen O'Connor 07506 711574 or GMB Southern Press Release 07970 114762
Notes to Editors
Previous GMB Press Release
1] GMB members boycott ISS Christmas lunch https://www.gmb-southern.org.uk/news/gmb-members-boycott-iss-christmas-lunch
2] GMB protest at Kingston Hospital to go ahead on Thursday 20 December (19 December) https://www.gmb-southern.org.uk/news/gmb-protest-at-kingston-hospital-to-go-ahead-thurs-20-dec
3] "GMB to hold further protest outside Kingston Hospital" (7 December) https://www.gmb-southern.org.uk/news/gmb-to-hold-further-protest-outside-kingston-hospital
4] Let GMB know if you can attend the march at https://www.facebook.com/events/546588669193347/