GMB to hold further protest outside Kingston Hospital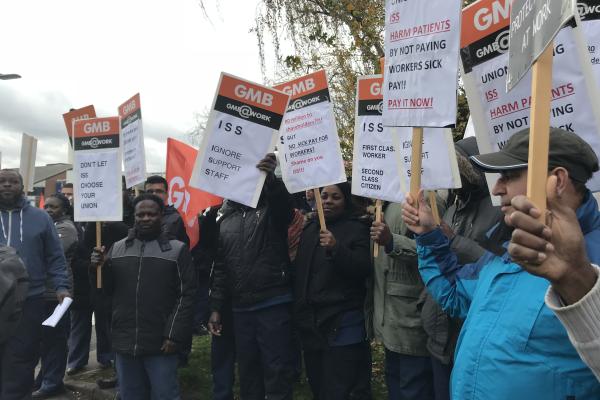 "GMB will not stand by and watch highly paid ISS managers abuse our members and strip them of their basic rights", says GMB Southern
GMB, the union for ISS NHS staff, have organised another protest following a lively lunchtime protest outside Kingston Hospital on Thursday 29 November.
The protest will include Scrooge, to illustrate that GMB members are being paid poverty wages over the Christmas Period.
Oliver Twist will also make an appearance as GMB members asked "Please sir can I have some more?" and ISS have responded with retaliation and bullying.
Details of the next protest are as follows:
Thursday 20 December
12:30 PM
Kingston Hospital
Galsworthy Rd,
Kingston upon Thames
KT2 7QB
Helen O'Connor, GMB Regional Organiser said: "GMB members at Kingston Hospital are protesting because they are being treated badly at work and ISS is ignoring their concerns. They will continue to protest to defy the bullying attempts of ISS management to suppress them.
"All our members are asking for is a basic sick pay scheme and the London Living Wage of £10:55 an hour. They want the verbal and physical abuse they are suffering at the hands of ISS managers to stop.
"GMB will not stand by and watch highly paid ISS managers abuse our members and strip them of their basic rights. GMB will stand up to the ISS management bullies. We will be staging a second protest outside Kingston Hospital on Dec 20th. GMB members will not stop fighting until their demands are met by ISS."
Contact: Helen O'Connor 07506 711574 or GMB Southern Press Release 07970 114762