Wiltshire Council 'on collision course' with government over Fire and Rehire threats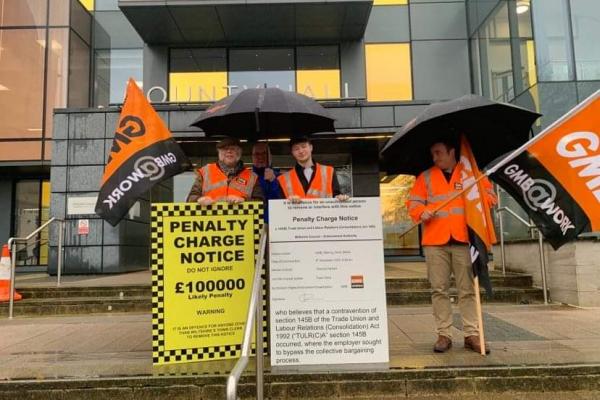 New government proposals are seeking to ban the controversial practice, even as Wiltshire Council seem hell bent on pressing on to cut 20 per cent from front-line worker pay
GMB, the union for Wiltshire Council, has warned Wiltshire Council bosses they risk breaking a newly proposed statutory code.
On 24 January, Business Secretary Grant Shapps, announced that the government will introduce a statutory code to, in the government's words, "crack down on unscrupulous employers that use controversial dismissal tactics." [1]
During the long running industrial dispute between GMB and Wiltshire Council, the trade union has repeatedly asked the council to confirm that they will not use fire and rehire to force through the pay cut. [2]
Council CEO Terence Herbert has so far refused to rule out the controversial practice.
Keith Roberts, GMB Regional Organiser, said:
"GMB members at Wiltshire Council have been fighting for around a year now against a proposed pay cut that would drop their take home pay by up to 20 per cent.
"Through that time, GMB has repeatedly asked Wiltshire Council to confirm that they will not use bullying fire and rehire tactics to force through proposals and all along the council have insisted that they are keeping the option open.
"Even as recently as December, CEO Terence Herbert was at a meeting where the council confirmed they wish to retain the option of fire and rehire, in case GMB members would not accept the pay cut voluntarily.
"The apparent inclination to use fire and rehire by Mr Herbert is precisely the sort of threat that even Conservative ministers, like Grant Shapps and Baroness Vere of Norbiton, are describing as 'unscrupulous.'
"It seems that Wiltshire Council is not only on a collision course with their own workforce and with GMB, they are now even on a collision course with the Tory government."
Media enquiries: Keith Roberts on 07852 182348
Notes to Editors:
[1] Government announcement from 24th January 2023: https://www.gov.uk/government/news/government-cracks-down-on-fire-and-rehire-practices
[2] GMB is involved in a long running dispute with Wiltshire Council, who are proposing to remove a contractual "plussage" of 20% or 10% for working unsocial hours, this is an actual cut in take home pay for a number of staff, such as social workers, care workers, leisure and highways, and parking enforcement.