Swindon social worker strike to resume tomorrow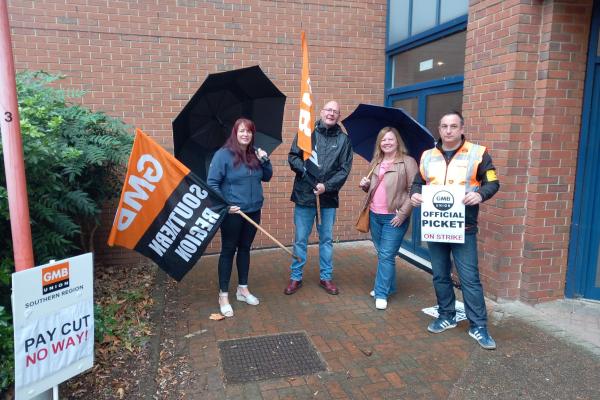 The strike had been called off pending talks with the council, only for it now to recommence with no firm agreement having been reached.
Strike action resumes at midnight tonight (Monday 4 September) by GMB members who are social workers in the Emergency Duty Service for Swindon Borough Council.
The strike action was originally scheduled for two weeks, commencing 31 August but was paused to allow talks to take place between council chiefs and GMB, the union for social workers in Swindon.
Swindon Borough Council has made a financial offer, but staff are concerned that there is no firm agreement that this will not be taken away again, so the strike is set to go ahead from tonight until Wednesday 13 September and then every weekend until after Christmas.
Andy Newman, GMB Branch Secretary said:
"Not only are the social workers back on strike, but GMB are talking to staff in other departments who have grievances, meaning further strikes are likely and already our members are talking about 'Labour's council of chaos'.
"We met Swindon Borough Council officers today, who took an aggressive approach from the get-go, repeatedly telling us that the dispute is over, but it is our members who decide that, not the employer.
"The previous Conservative administration decided that they would only talk to GMB if we threatened strike action and despite promises by the Labour Party that they would change this, they seem to have walked away from that commitment.
"This leads to as incredibly dysfunctional situation where GMB have no option other than to take strike action, which has been exacerbated by SBC officers trying every trick in the union-busters book, which is very disappointing from a Labour council, for which GMB actively campaigned.
"We are near to a deal with Swindon Borough Council, but we cannot resolve issues if they are not willing to talk to us.
"GMB have made very specific proposals of how to give our members confidence that this money will not be whisked away in the future and SBC officers need to talk about those proposals and negotiate an end to the dispute."