Swindon social workers strike suspended on safety grounds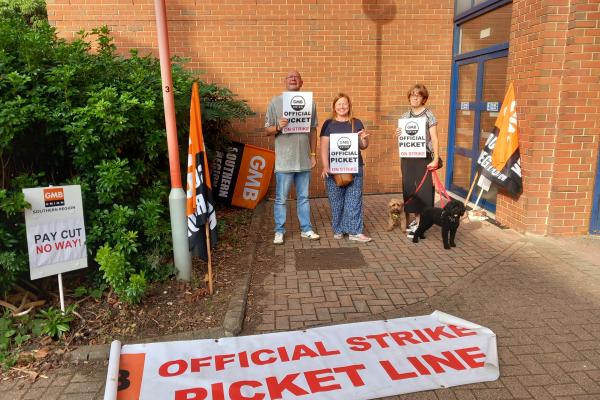 The dispute remains unresolved, and GMB is willing to talk to the council at any time, through ACAS, to find a resolution, says GMB  
A strike by social workers has been suspended on safety grounds by GMB, due to Swindon Borough Council failing to provide adequate emergency cover during recent strike days.
GMB members in the Emergency Duty Service, which provides emergency out of hours support for vulnerable adults and children, have made a reluctant decision to suspend their strike, because child protection calls were missed on strike days.
A two week strike started on 31st August and was due to continue until 13th September, but social workers returned to the late and night shifts on 11th September [1].
Andy Newman, GMB branch secretary, said:
"Our members are dedicated professionals. Last week they became aware that emergency calls had been missed during strikes, despite assurances from the employer that adequate cover was in place. Four calls that were missed were very serious concerning child safeguarding, and a vulnerable female at risk of exploitation.
"Staff raised their concerns with management, in an appropriate manner, but got no reply. Then striking members in the department had their IT access and email access blocked, and the key was taken from the keysafe, so that they could not physically access their office. This looks like an attempted cover up to us [2].
"The dispute remains unresolved, and GMB is willing to talk to the council at any time, through ACAS, to find a resolution.
ENDS
Media enquiries: GMB Press Office on 07958 156846 or at press.office@gmb.org.uk
Notes to Editors:
[1] Further strikes are due every weekend until the New Year, and GMB member have yet to decide whether these proceed, as management will have enough time to arrange cover.
[2] Staff access to department's voicemail showed that, during two days of strike, on 6th September and 7th September, 20 messages were not retrieved from voicemail. Four of these messages were very important.
On Wednesday 6th September, a call was not responded to from Wiltshire Police, raising concerns about a vulnerable female at risk of exploitation. That same night, a call was not responded to from the Great Western Hospital concerning a child using recreational drugs.
During the middle of the night on Thursday 7th September, a nurse from London rang about a Swindon child with a worrying presentation, and then the same nurse rang back 5 hours later asking for an urgent call back. These calls were not responded to.
It is normal in industrial action involving an emergency service for the union to negotiate a minimal level of service with the employer, which are technically called "derogations". GMB has continually indicated to Swindon Borough Council the union's willingness to negotiate derogations but at each stage has been rebuffed.