Slough Council leader expresses concerns about Frimley Health Trust privatisation plans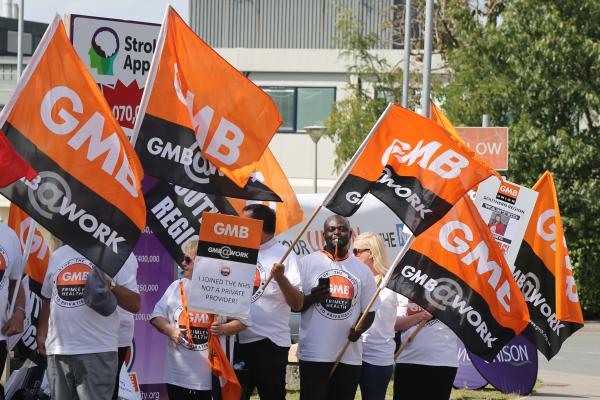 "The Trust are fooling no one in trying to convince staff that they will benefit from being transferred to the private sector", says GMB Southern
GMB, the union for all NHS workers, across Frimley Health trusts three sites at Wexham Park, Frimley Park and Heatherwood Hospitals, only days before notice is to be presented to Trust chief exec Neil Dardis about members undertaking an industrial action ballot are pleased that a meeting with Slough Borough Council leader James Swindlehurst has resulted in the council expressing serious concerns about the plan.
Councillor Swindlehurst and the political leadership of Slough Borough Council have expressed "significant concerns about the creation of a wholly owned subsidiary company by Frimley Health Foundation Trust."
Following Neil Dardis, Chief Executive of Frimley Health, appearance in front of the Slough Borough Council Health Scrutiny Panel on 10th September when he admitted that the Trust rationale was almost entirely based on cost savings, and cuts to reduce Trust deficits. Cllr. Swindlehurst has also expressed concern that "recruitment of new staff into this subsidiary company at lesser pay rates and conditions" risks a two tier workforce or all employees' conditions being downgraded.
GMB have already made it clear of course that NHS Trusts look to do this through the use of tax avoidance and lesser terms and conditions for new employees as the prelude to the eventual harmonisation of all staffs pay and terms downwards towards the new lesser pay rates which sit outside of agenda for change scales.
GMB will also be opening after providing formal notice requirements on Monday 7th to the Trust an ERS industrial action ballot to enable members to vote to provide a strong response the Trust failures to stop this privatisation and in looking against the wishes of over 1000 staff in portering, housekeeping, catering, security and cleaning amongst others to transfer them out of the NHS into the private sector.
Asia Allison, GMB Regional Organiser said: "Neil Dardis' simple cost cutting presentation to slough council fly's in the face of NHS improvements requiring a more extensive and evidenced argument other than that of direct financial savings and to show there is a business case for a WOS which demonstrates value beyond potential VAT savings.
"The Trust are fooling no one in trying to convince staff that they will benefit from being transferred to the private sector. Senior Management know that they will retain their own extensive NHS salaries and benefits whilst risking those of some of the lowest paid in the trust. This is by placing them openly into the cut throat world of NHS profiteers and likely to be to subject to possible takeovers and buy outs, if trust coffers need a further boost one year.
"GMB and now Councillor Swindlehurst public support for stopping the unfair imposing of WOS status on staff and services at Wexham Park hospital and Frimley Health Trust shows that opposition is growing both within the trust and the community to such poor decision making by those we thought we could rely on to manage our NHS hospitals and look after both patients and staff operating within them.
"Neil Dardis, Janet King and their management's use of smoke and mirrors and false claims is not fooling GMB members or the council and its hoped that our ballot result and combination of direct industrial action and work to rules will final see them understand that they require the support of staff to make a move work and that they don't and never will have it.
"The message is clear that they simply will not transfer to a WOS and abandon the organisation at the heart of everything they do for patents in the Trust, The NHS.
"So if Neil Dardis and Janet King have such warm feelings for the private sector as they appear to then its they that should go work in that area themselves and leave the NHS in the hands of those that want to protect it in its entirety."
Contact: Asia Allison 07813 541930 or Gary Palmer 07552 165950 or GMB Southern Press Office 07970 114762