LGBT+ equality campaigning by GMB Dorset Local Government and Schools Branch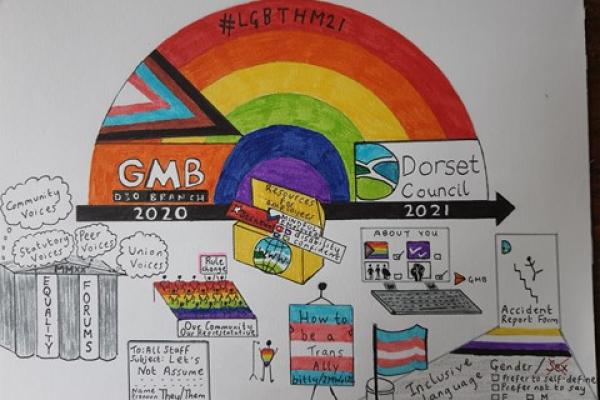 This LGBT+ History month we look back over GMB Dorset Local Government & Schools Branch's excellent achievements on LGBT+ campaigns in the last year 
Izzy Pochin, GMB D30 Branch Equality Officer has created a visual sketchnote of all the successes this progressive and proactive branch have had in the last year supporting LGBT+ members.
What is a sketchnote?
A sketchnote is a method of visual notetaking. In this example Izzy has used a sketchnote to combine illustrations and text to represent all of the LGBT+ successes the branch has had and the various activity the activists have been involved in the last year.
Sketchnotes can be useful for a visual representation of something like this and many people find visual representations more accessible than lots of text.
What does this sketchnote show?
GMB D30 Branch and Izzy have been done a huge amount of work on LGBT+ equality issues and the sketchnote includes details of all of them:
The branch proposed a motion to GMB congress to ensure that branch equality activists should identify with the appropriate strand to ensure that people with lived experience are representing these under-represented groups – this motion will now go to GMB National Congress for debate and vote

Let's Not Assume illustrates how the branch successfully negotiated for the employer to enable workers to include their pronouns in the corporate email signature. This is a significant win for gender diversity and challenging assumptions of cisnormativity (the idea that everyone identifies with the gender they were assigned at birth and with the binary of male/female)

The branch have been working with the employer to ensure inclusive language is used – one example of this is ensuring that Health and Safety reporting processes ask about gender, not sex, are fully inclusive and allow people to self-define their gender

In 2020 and 2021, the branch participated in national GMB events led by Christina Dearlove. Christina is one of GMBs leading activists on our national Trans and Non-Binary network. As a result of this the branch committed to embedding her top tips for how to be a trans ally in our workplaces. You can read the top tips here www.gmb.org.uk/long-read/five-ways-you-can-be-ally-trans-and-non-binary-community

The branch successfully negotiated a new Facilities Agreement, which includes that all workers will have access to the resources connected with benchmarking programmes, such as Stonewall Workplace Equality Index, Mindful Employer and Disability Confident, so they are fully supported and empowered at work

In 2021, the branch is planning to survey its members to better understand who they are, if they identify with particular equality strands and any issues they might be experiencing, so the branch can better bargain on their behalf

And finally, using her experience from being the branch's LGBTI+ and Disability Officer, Izzy set up two independent Forums for LGBTI+ and Disability equality in Dorset so members can come together to discuss what is going on for this community. This has been a useful network especially considering everything going on over the last few years