Government propose abolition of Swedish derogation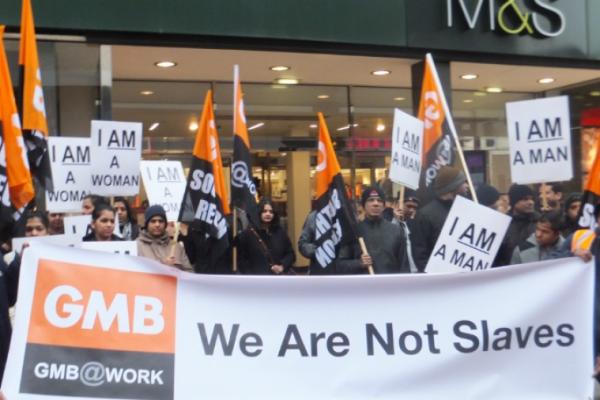 "The Swedish derogation has only ever been used to exploit low paid, vulnerable workers", says GMB Southern
GMB is hailing victory as the government lays regulations before parliament to abolish the Swedish derogation for agency workers.
The Swedish derogation provides an exemption to equal pay provided the agency offers the worker a permanent contract of employment, pays the worker between assignments and complies with various other conditions.
GMB's battle against the Swedish derogation arose out of unfair practices at a Marks and Spencer warehouse, run by Wincanton / DHL near Swindon in the South West of England. Here, the majority of staff were employed through employment agencies Twenty-Four Seven Recruitment Services Ltd / Tempay Limited but earned less than permanent workers who did exactly the same job but who were employed directly by Wincanton / DHL.
In early 2015, a delegation of GMB members who worked at the M&S warehouse went to Brussels to meet with a senior EU Commission official leading on agency worker legislation to highlight the exploitation enabled by the Swedish derogation. They also met with British and German MEPs who commended the bravery of the GMB members, knowing how vulnerable agency workers are.
Employment Tribunal proceedings were also lodged in 2015 and, in 2017, the Employment Tribunal ruled in favour of the GMB members finding that their contracts did not allow the agency to avoid paying equal pay. The agencies appealed and the Employment Appeal Tribunal recently ruled in favour of the workers meaning that it is open for the GMB members to argue for the same pay as the permanent staff.
Swedish derogation is due to be abolished on 6 April 2020.
Carole Vallelly, GMB Regional Organiser said: 'This has been a long fought battle and it's disappointing that the government is proposing to further delay the final abolition date. I call on the government to end the Swedish derogation with immediate effect. The time to give dignity and respect to all workers is always now.
Andy Newman, GMB Branch Secretary, said: 'The proposed abolition of the Swedish derogation is a direct result of GMB members refusing to accept unfair practices in the workplace. All credit goes to them for standing up and saying No. No to exploitation. No to unfair pay.'
Paul Maloney, GMB Regional Secretary said: 'The Swedish derogation has only ever been used to exploit low paid, vulnerable workers.'
Contact: Carole Vallelly on 07912181476 or email Carole.Vallelly@gmb.org.uk or GMB Southern Press Office 07970 114762
Notes to Editors
Previous GMB Press Release: GMB calls on Government to end Swedish derogation (27 November 2018) https://www.gmb-southern.org.uk/news/gmb-calls-on-govt-to-end-swedish-derogation