GMB warns vulnerable children and adults are being put at risk by Swindon Borough Council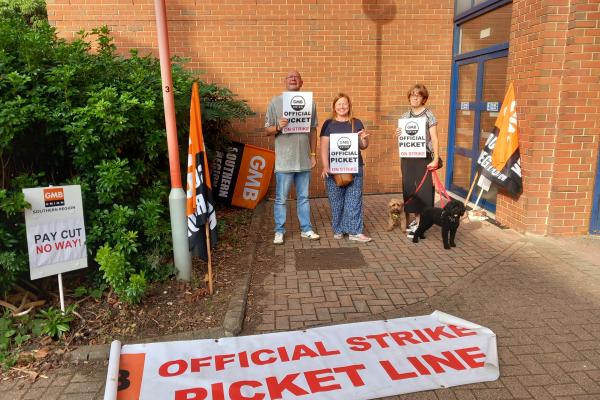 GMB have offered emergency cover several times to Swindon Borough Council officers, who are unfortunately just not interested in talking to us about it, says GMB Union
Swindon Borough Council is failing to provide emergency cover during social worker strike.
Despite assurances to GMB union by Swindon Borough Council (SBC) that the work by striking members of the Emergency Duty Service was being covered during the industrial dispute, the union now has firm evidence of emergency calls being missed.
It is normal in industrial action involving an emergency service for the union to negotiate a minimal level of service with the employer, which are technically called "derogations".
GMB has continually indicated to Swindon Borough Council the union's willingness to negotiate derogations but at each stage has been rebuffed.
During two days of strike, on 6 September and 7 September, 20 messages were not retrieved from voicemail. Four of these messages were very important.
On Wednesday 6 September, a call was not responded to from Wiltshire Police, raising concerns about a vulnerable female at risk of exploitation. That same night, a call was not responded to from the Great Western Hospital concerning a child using recreational drugs.
During the middle of the night on Thursday 7 September, a nurse from London rang about a Swindon child with a worrying presentation, and then the same nurse rang back five hours later asking for an urgent call back. These calls were not responded to.
David McMullen, GMB Organiser explains:
"I was the GMB organiser who dealt with the South West Ambulance Service (SWAST) during recent strikes, and I negotiated an emergency cover service, as the last thing our members want is to put people at risk. Our striking ambulance members literally responded direct to emergency calls from the picket line.
"I have personally offered emergency cover several times to Swindon Borough Council officers, who are unfortunately just not interested in talking to us about it.
"GMB wants to solve this dispute, and we have offered to talk to the council through ACAS. "
Andy Newman, GMB Branch Secretary said:
"GMB believes that Swindon Borough Council is being unbelievably reckless in failing to negotiate emergency cover, and the macho stance of refusing to talk to GMB is now putting vulnerable people at risk.
"Deputy Leader of the Labour Council, Councillor Emma Bushell, spoke to me today just before she crossed the picket line. She said that the council was not prepared to talk to us because they don't know why GMB are still on strike. Frankly, the way they find out why our members are still on strike is to negotiate with us and solve the outstanding issues.
"The strike started because a contractual unsocial hours allowance of £700 per month was removed, and the new arrangements for night pay left our members out of pocket. Progress has been made, and the new money which SBC have put on the table is broadly acceptable. However, our members have a reasonable worry that the way it has been offered is not legally robust, and the payment could be taken away again. GMB has offered reasonable and moderate proposals of how that concern could be addressed, but we are also open to other suggestions, which is why it is vital to talk. SBC seem to think that we are moving the goal posts and that they have already addressed the underlying issue, but their proposals are a day late and a dollar short, and have not satisfied our members, who stay on strike.
"GMB is very focussed on solving the problems, because the longer the strike goes on, the more relationships get damaged. We are already seeing SBC briefing journalists with very personal accusations against local GMB activists. It is time to sort this out, and SBC refusing to talk to us is a ridiculous failure of leadership."
ENDS
Media enquiries: GMB Press Office on 07958 156846 or at press.office@gmb.org.uk