GMB to step up Kingston Hospital campaign following successful march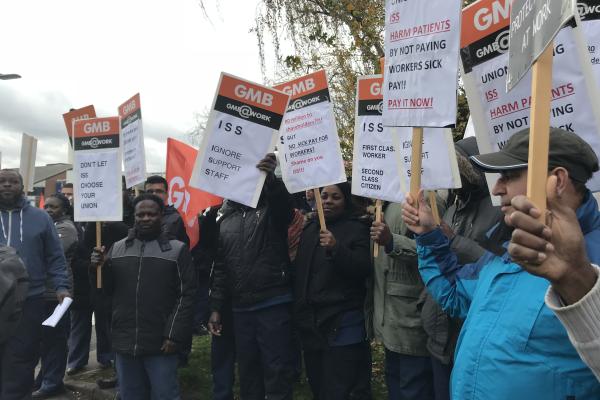 "Our members can see that their trade union will use its industrial and political muscle to ensure that unscrupulous private contractors like ISS do not succeed in oppressing NHS workers and destroying the NHS", says GMB Southern
GMB members and campaigners from across the community are determined to step up the Kingston Hospital campaign (#kingstonhospcampaign) following a 150 strong 'March for Hospital Workers Rights' on Saturday 2 February.
The march was organised by GMB union following two noisy and well attended demonstrations outside Kingston hospital on 29th Nov and 20 Dec 2018. Labour Party MP Steve Reed addressed the rally. GMB General Secretary Tim Roache said that any attempts to stop GMB campaigning on behalf of our members at Kingston Hospital would lead to GMB campaigning even more. Statements of support by Mayor of London Sadiq Khan and Shadow Health Secretary Jon Ashworth were also read out at the rally.
Private company ISS who hold the cleaning, catering, portering and security contract for Kingston Hospital continue to refuse to pay their workers the London Living Wage of £10.55 per hour and a sick pay scheme that will protect hospital patients from cross infection.
Helen O'Connor, GMB Regional Organiser said: "It is scandalous that low paid hospital workers are forced to go into work amongst patients when they are unwell themselves. ISS managers, who themselves enjoy high salaries and a full sick pay scheme are showing utter contempt for hospital staff, patients and the entire NHS itself by refusing to treat their workforce in a fair and decent way.
"ISS managers wanted to offer GMB a 'partnership agreement' on the basis that we stopped any form of campaigning for our members' basic rights, but GMB will not accept 'partnership' at any price.
"On Saturday GMB members had a big morale boost by the level of support their campaign is attracting from the local community and the labour movement and they are more determined than ever to fight on. Our members recognise that their fight is integral to protecting the entire NHS itself.
"GMB members can see that their union will use our industrial and political muscle to ensure that unscrupulous private contractors like ISS do not succeed in oppressing NHS workers and destroying the NHS. We will fight on until our demands are met."
Contact: Helen O'Connor 07506 711574 or GMB Southern Press Office 07970 114762
Notes to Editors
Previous GMB Press Release
1] GMB ISS members to 'March for their Rights' at Kingston Hospital https://www.gmb-southern.org.uk/news/gmb-iss-members-march-for-their-rights-kingston-hospital
2] GMB members boycott ISS Christmas lunch https://www.gmb-southern.org.uk/news/gmb-members-boycott-iss-christmas-lunch
3] GMB protest at Kingston Hospital to go ahead on Thursday 20 December (19 December) https://www.gmb-southern.org.uk/news/gmb-protest-at-kingston-hospital-to-go-ahead-thurs-20-dec
4] "GMB to hold further protest outside Kingston Hospital" (7 December) https://www.gmb-southern.org.uk/news/gmb-to-hold-further-protest-outside-kingston-hospital