GMB Predict a Winter of Discontent for Frimley Health Foundation Trust (FHFT) and Chief Exec Neil Dardis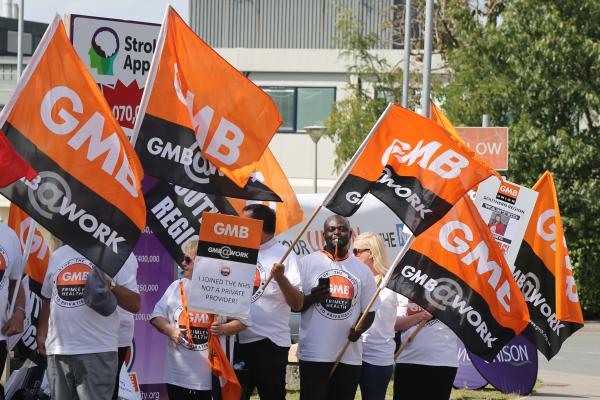 GMB members left with no choice other than to strike to protect their jobs and patients safety and to show Chief Executive Neil Dardis and HR Director Janet King that staff will not accept tax avoidance as a rationale for them losing their NHS jobs.
The strikes on Monday and Tuesday are the first of what is likely to be a winter of discontent by GMB members and non-clinical NHS staff across all three FHFT hospitals including further potential December strike dates and demonstrations up to, across and after the festive period. GMB has been clear from day one of this dispute, that there are better options for efficiency savings if only the trust tried the off the wall suggestion of engaging with those that provide the front line services themselves, instead of either paying extortionate money for some consultant or relying on advice from an incompetent senior management team to make unilateral decisions about privatisation through the creation of a Wholly Owned Subsidiary (WOS).
GMB members will not simply go quietly into the private sector. They have the backing of the fastest growing NHS union and together we are fighting for a public NHS they not only chose to join, but one they atlas believe in being the very best and only option for continued safety of patients and the public and protection of staff livelihoods alike.
It's a shame that Neil Dardis and Janet King can't show them the same commitment in return, but I guess they will remain as far apart from front line staff as their salaries are from those same hardworking people's pay packets they wish to sell out.
Update
Gary Palmer, GMB Officer said; "GMB originally cautiously welcomed an offer from ACAS to mediate between the combined unions and the Trust on options and possible next steps , even though they asked the joint Unions to halt the strike whilst actually offering nothing in return other than talks on the 21st Nov.
What is disappointing is that at the eleventh hour some trade union seemed to have lost the appetite to defend the NHS from privatisation and are now in clandestine talks with management to the detriment of staff, NHS services and the loss of NHS property to the private sector.
GMB members have always maintained open and honest red lines from day 1 that the Trust must cease the creation of a private company or WOS and all staff must be contractually assured they will stay in the NHS. It's just a shames that one union would break away to manage a process which is morally wrong for both our NHS and the hardworking staff who face an uncertain future if any deal is imposed. There is no place within our national health service for a Donald Trump and Boris Johnson style NHS.