GMB demo against proposed Medway Council cuts due to introduction of National Living Wage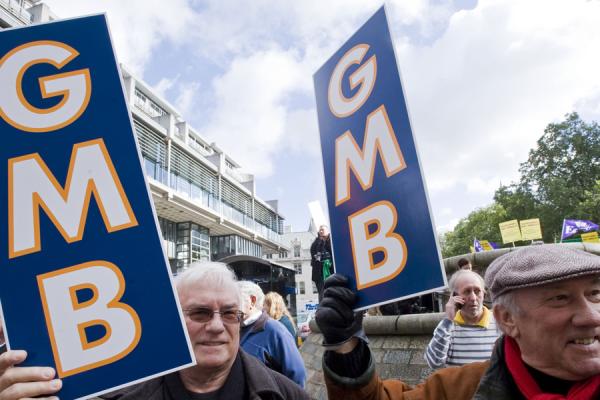 GMB condemn Medway council for proposed cuts due to introduction of national living wage.
The national living wage is of no use to members and their families if Medway council tell contracted staff they have no job says GMB.
GMB will hold a demonstration on Thursday 14th April against cuts to services caused by Medway Council. Affected services are run with partner Medway Norse, owned by Norfolk County Council, who blame the introduction of the National Living Wage for the cuts.
In March 2016 GMB was informed that some of its members would be consulted on redundancies due to the cost of implementing the National Living Wage. Medway Norse told GMB that the council had forced it to make significant cost savings as the contractor could not absorb the increased wages without additional funding.

GMB will hold a demonstration ahead of the Business Support Overview and Scrutiny Committee at 6pm on Thursday 14th April at the following address:
Outside Medway Council Gun Wharf offices,Dock Road,Chatham,
ME4 4TR

Nick Day, GMB Membership Development Officer, said "It is scandalous that jobs are being lost within public services due to the introduction of the new 'National Living Wage'. The Conservative Chancellor clearly stated that employers should be able to afford to pay staff £7.20 an hour from April. So why is the Conservative Council not funding this and 'penalising low paid workers who should just be receiving what they are entitled to?
Either way the Government or the Council need to implement the new pay rate without anyone losing their jobs. The National Living Wage is of no use to members and their families if Medway Council tell contracted staff they have no job.
We are asking for the wages to be fully funded and our members not to lose their jobs due to legally receiving what they are entitled to. "

End

Contact: Nick Day on 07717 510047 or GMB press office on 07739 182691 or 07970 863411
Notes to editors
1 Link to the Agenda item set for the Overview and Scrutiny Committee on 14 April 2016 which raises the issue of the National Living Wage funding for Medway Norse
http://democracy.medway.gov.uk/mgconvert2pdf.aspx?id=30792

2 Information on contractor Medway Norse

For the year ending 1 February 2015, Medway Norse has a turnover of £10.6m, up from £4.9m in 2014 (2014 figures for 13 months) and 334 employees

The parent company, Norse Group has a turnover of £251m, growth of £70m since 2011. The ultimate holding company is Norfolk County Council

The Norse Group has 23 joint ventures with authorities in Facilities Management, Cleaning, Catering, Environmental Services, Waste Management, Transport, Building Maintenance, Care equipment, Engineering, Printing, Grounds Maintenance and Security.

The Group has joint ventures with Barnsley, Devon, Enfield, Great Yarmouth, Newport, Norwich, Suffolk, Suffolk Coastal, Waveney and Wellingborough.

Average number of employees in 2015 was 10,284

Highest paid director received £162,000

Gross profit of £61m, Operating profit of £5.4m and shareholder funds of £10.1m
Figures and statements in this release are subject to change. Please refer to the final release for comment to press and members.