GMB demand assurances on hospital catering jobs after last minute restaurant closure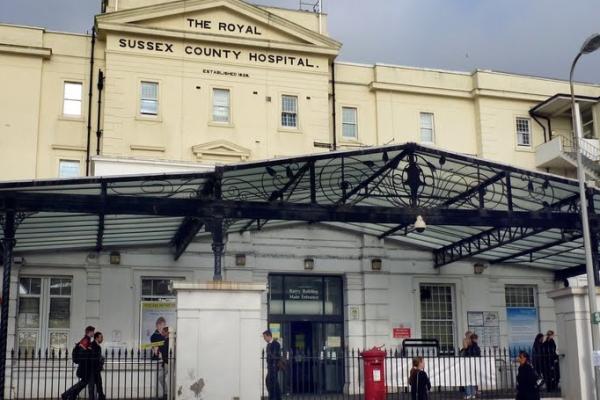 "We will fight tooth and nail to prevent any return to the bad old days when profiteers like ISS and Sodexo thought profit in Brighton Hospital was more important than patients and staff," declare GMB
GMB, the union for staff at Brighton and Sussex University Hospital, have slammed the decision to close the staff and public restaurant in the main hospital building, and are calling on the trust to guarantee members' jobs will remain safe and within the NHS and not outsourced to a private contractor.
Disappointed and angry catering staff who have worked hard, despite often being understaffed, to deliver hot food and drinks to frontline staff and patients were served notice on Friday that their restaurant will close on July 1st , thus giving them 5 days' notice that their roles would cease.
To make matters worse, the staff themselves have been tasked with informing customers of this fact – and that they have to make do with items from a cold sandwich trolley or a trip to the Audrey Emerton Building some distance away, which is simply not an option for those working so hard at the time of an ongoing pandemic.
The closure and deliberate lack of consultation with Trade Unions are, GMB believe, the first step towards the Trust tendering all catering services back out into the private sector, once the new hospital is complete and new food halls and restaurants are opened.
Gary Palmer GMB Regional Organiser said: "Crisis over and normal and poor service by the trust towards staff is resumed.
"Once again, the inability of NHS management to understand just what this restaurant means to frontline staff at the BSUH is unbelievable. The catering team at The Waves restaurant have always provided a popular service for staff looking to get a hot meal and drink away from their busy working day, and never more so than through the recent crisis when their own staffing shortages have at times meant a huge effort to make sure their colleagues are fed.
"How are they thanked or repaid for their dedication and hard work? By finding out their roles are now gone just before the weekend and only days before the restaurant shuts.
"The Trust are blaming Covid-19 for the closure, saying that hot food cannot be produced in a controlled kitchen environment, whilst adhering to social distancing guidelines. Instead, a trolley service will be pushed by staff throughout the hospital site, which surely cannot be seen to be safe for our members either?
"GMB are now calling for the Trust firstly to guarantee our members' jobs will remain safe, and secondly to commit to keeping their jobs within the NHS and not outsource them to a private contractor.
"Staff are already aware that the bidding and procurement process is underway, with private sector companies circling, looking to win these contracts whilst keeping the gravy train profits for themselves.
"We will fight tooth and nail to prevent any return to the bad old days when profiteers like ISS and Sodexo thought profit in Brighton Hospital was more important than patients and staff."
Contact: Gary Palmer on 07552 165 950