GMB call on Secretary of State for Health to stop sale of Epsom Hospital land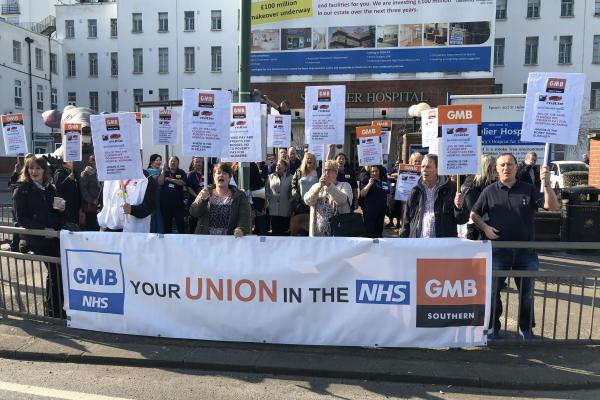 "Sale of this land should be stopped until there is an agreed plan that enjoys the support of the local community", says GMB Southern
GMB has joined the call by local health campaign (KOSHH) for the Secretary of State for Health, Matt Hancock, to stop the sale of Epsom Hospital.
The KOSHH release sets out that on Friday 15th March 2019 it was announced at a Public Briefing that the Epsom and St Helier University Hospitals Trust (ESTH) had sold one fifth of Epsom Hospital's land and buildings.
This huge section of land and buildings agreed to be sold for £18.5 million. It was sold to Legal and General (L&G). This despite there having been an offer by another developer of "almost £40m". Daniel Elkeles, ESTH's Chief Executive, stated that L&G intend to build luxury "McCarthy and Stone" type retirement accommodation for the over 55s - or as L&G cynically call them "last time buyers".
GMB has attended a number public meetings against the selling off of the land where the public feeling towards the land sale was clear. The public have demanded that the land either not be sold at all, or should be used only for social care, affordable housing or staff accommodation.
Paul Maloney, GMB Regional Secretary said: "The Secretary of State must call in the sale of this land for the price accepted.
"GMB agrees with the local campaign group that there are a number of issues here that should be settled before any land sale is agreed.
"Not least is the issue of the future shape of the NHS major hospitals in South London and the Surrey border areas adjacent to London.
"There is no agreed plan. The numbers in the local population are growing, the numbers of elderly people are also growing, and there is a pressing need to integrate the provision of health and care services.
"Sale of this land should be stopped until there is an agreed plan that enjoys the support of the local community."
Contact: Helen O'Connor 07506 711574 or GMB Southern Press Office 07970 114 762
Notes to Editors:
1] Keep Our St Helier Hospital (KOSHH) Press Release (1 August 2019)
https://koshh.org/press-release-keep-our-st-helier-hospital-koshh-campaign-sale-of-publicly-owned-hospital-land
2] The Telegraph – "L&G targets 'last-time buyers' by building retirement villages" (9 May 2019)
https://www.telegraph.co.uk/business/2019/05/09/lg-targets-last-time-buyers-building-retirement-villages/
3] Previous GMB Press Releases
GMB support public meeting against the selling off of land at Epsom and St Helier hospitals (20 May 2019)
https://www.gmb-southern.org.uk/news/gmb-support-meeting-epsom-st-helier-hospitals
GMB attend public meeting to keep St Helier and Epsom hospitals open (18 April 2018)
https://www.gmb-southern.org.uk/news/gmb-attend-public-meeting-to-keep-st-helier-and-epsom-hospitals-open
GMB call for St Helier and Epsom Hospitals NHS Trust to halt plans to remove acute services following population growth projection (21 March 2018)
https://www.gmb-southern.org.uk/news/gmb-call-for-st-helier-epsom-nhs-trust-halt-plans-remove-acute-services
GMB slam St Helier and Epsom NHS Trust chief executive for hoodwinking electorate (15 March 2018)
https://www.gmb-southern.org.uk/news/gmb-slam-st-helier-epsom-nhs-trust-chief-executive-for-hoodwinking-electorate