Full House at Bembridge Harbour meeting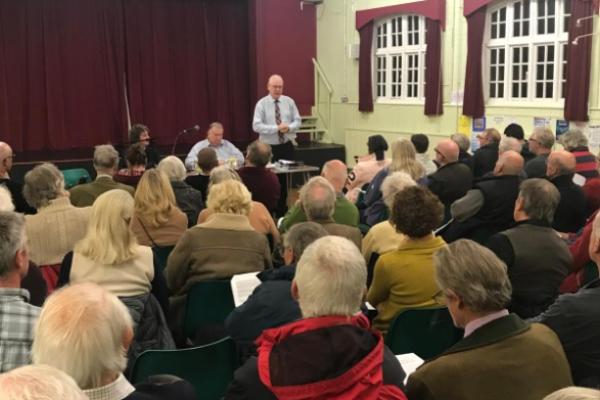 "There was a lively debate with many questions unanswered because Malcolm Thorpe failed to attend the meeting", says GMB Southern
On a stormy and rainy night last Wednesday (28 November) well over 100 people turned up for a well-attended and lively public meeting called to discuss the future of Bembridge Harbour.
Bembridge resident Sir Paul Kenny chaired the event and speakers included Jeremy Gully from Bembridge Harbour Trust and GMB Southern Regional Secretary Paul Maloney, representing the Union's Executive Council.
The meeting was conducted in an open manner with all points of view respected and explored, including calls for open dialogue with all interested parties including the Harbour's Owner Mr Malcolm Thorpe.
It is expected that a further meeting will be arranged in the New Year once progress on a number of items has been made.
Paul Maloney, GMB Southern Regional Secretary said: "I spoke at a well-attended meeting of Bembridge Harbour residents on the 28th of November. All interested parties were in attendance looking for answers to the finances and management of the Harbour.
"There was a lively debate with many questions unanswered because Malcolm Thorpe failed to attend the meeting.
"If Mr Thorpe has nothing to hide he will have no fears facing the public. GMB Union is under executive and Congress instructions to get to the bottom of concerns raised by GMB members on the Isle of Wight.
"So Mr Thorpe can run but he cannot hide. Come clean now please."
Sir Paul Kenny, Chair of the meeting said: "Tonight's event proves without a shadow of a doubt that the local communities of Bembridge and St Helens have legitimate concerns about the current state of the Harbour.
"Serious matters raised at the meeting included the urgent need to repair the groyne at the Harbour's entrance, to dredge in areas of commercial use, produce projections on the dangers of silting and the need for transparency over all financial matters to do with the Statutory Harbour Company and all other trading companies operating around it."
Contact: Adrian Baker 07941 071849 or adrian.baker@gmb.org.uk GMB Southern Press Office 07970 114762
Previous GMB Press Releases:
1] "GMB to speak at public meeting on Bembridge Harbour" (26 November 2018)
https://www.gmb-southern.org.uk/news/gmb-to-speak-public-meeting-bembridge-harbour
2] "GMB Congress Call on Secretary of State for Transport to Use Powers to Investigate Finances of Bembridge Harbour Company in Isle of Wight" (6 June 2018)
https://www.gmb-southern.org.uk/news/gmb-congress-call-on-secretary-of-state-for-transport-to-use-powers-to-investigate-finances-of-bembridge-harbour-company-in-isle-of-wight