GMB Non-Clinical Services Members stand fast on NO to FHFT Wholly Owned Subsidiary plans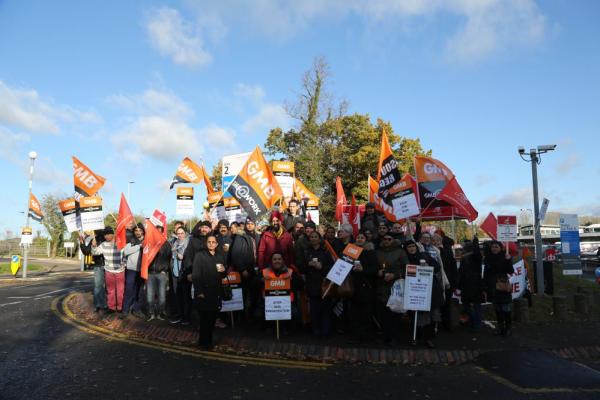 GMB non-Clinical Services members have overwhelmingly rejected Frimley Health Trust's individual valuation of staff facing Privatisation to the Trust's WOS
GMB, the union for the NHS, has seen its members across Frimley Park, Heatherwood and Wexham Park Hospital sites vote unanimously to reject the trust's re-submission of the original business case to privatise non-clinical services and transfer over 1,000 housekeepers, porters, maintenance, cleaning and catering staff among others to their own privately owned company.
The vote comes off the back of more than three month's discussions to seek alternatives to the need to unilaterally move hardworking frontline non clinical workers out of the NHS and into the dangerously risky area of the private sector health economy.
The rejected offer, which consisted of a re-presentation of the already rejected original business case (a case which still remains un-validated and supported by NHS Improvements at this time) being incentivised with a trust evaluation as to the worth of an individual staff member if they transferred.
Which consisted of a taxable £1,000 signing fee and a yearly share of an as yet unknown 10% WOS surplus pot.
Produced results of:
Accept Trust Proposal 0%
Rejected Trust Proposal 100%
This ballot result now could potentially see the return of a period of sustained industrial action across all three hospital sites as a very angry workforce who have unanimously valued themselves more than their employer does, continue to make a clear and determined stand against privatisation of NHS non clinical services and the protection of their NHS futures.
Further to all that is happening the trust are considering according to our sources and even without the required risk rating and authorisation required under NHSI transactional guidance in creating subsidiary's from NHSI commencing formal TUPE consultations, GMB have been clear in that doing could well see reactions both legally and robustly through the use of industrial processes.
GMB though would in light of the CoVid-19 pandemic worries of our members and hospital staff pause any possible Industrial action with the support of our members, if Neil Dardis and the Trust board were to halt the re-emerging threat to push on with the Transfer to any new Wholly owned subsidiary.
Asia Allison GMB Regional Organiser said: What an incredible result, GMB members have rejected what they felt and described as a bribe to accept privatisation of the NHS and their roles completely.
But what happens next is down to the Trust, Neil Dardis and Janet King if they decided to press on with the creation of a WOS the GMB will need to act robustly to stop it. If common sense prevails then we can perhaps carry on talking to seek an alternative which halts the creation of a WOS.
Members of whom it should be said are some of the lowest paid in the trust were insulted and angry as they discovered that the trust had simply sort to place a monetary valuation on their willingness to sell themselves into the private sector, when staff insist that staying in the NHS is the only outcome that will see this dispute resolved.
The trust will no doubt claim they have sort to find alternatives and that the unions have come up short in doing the same, but it is in fact that their refusal to move from the only driver to create a wholly owned subsidiary, and its fairy-tale figure of 11.7 million financial surpluses that has seen the trust refuse to work hard enough to develop alternatives to fully outsourcing services to a WOS.
But Greed prevents the board seeing clearly the benefit of a reduced profit and a contented workforce over 11.7 million and a workforce unhappily on strike.
Gary Palmer GMB Regional Organiser said: It's worth noting that this is about a NHS Trust wanting to create a 11.7 million surplus, or as the private sector would call it 'Profit'
This isn't a poor and desperate trust by any means, and the board are without doubt financially astute.
We've seen the books so to speak and they are both cash reserve flush and land and asset rich, so trying to convince members that their not making a surplus could result in the trust being placed in special financial measures by the CQC is just a total fabrication.
Disillusionment is spreading as staff in other non-clinical areas such as ward clerks, Medical secretaries, Admin, Procurement and in areas such as Pharmacy and Phlebotomy amongst others, are now seeing the writing on the wall as to their potential move across to any WOS as well if allowed to progress.
The board, chief exec and senior management need to be concentrating on the current threat from the CoVid-19 pandemic and not stabbing those in the frontline of defence against any spreading of the virus within the Hospital in the back.
Contact: Asia Allison 07813 541930 or Gary Palmer 07552 165950