GMB brands Canterbury City Council and its Labour Leader Alan Baldock as 'seriously out of touch'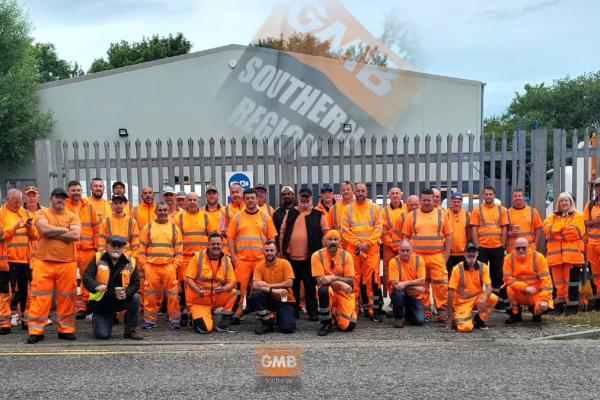 Settling the strike by paying bin workers the local market rates of £12 an hour for loaders and £15 an hour for drivers would be much more popular than having even more councillors and the resurrection of a mothballed bus scheme, says GMB
GMB union has branded Canterbury City Council as out of touch after Labour Leader Alan Baldock said he wanted an extra ten Councillors [1] and to resurrect the previously abandoned Sturry Park & Ride scheme [2] at a combined cost of a third of a million pounds.
It was this week revealed that the Council has agreed to expand the number of city councillors by 10 [1] and resurrect the mothballed Sturry Road bus depot to introduce a Park and Ride service [2], at a combined cost of around £332,500 to the taxpayer.
Labour Leader of the Council, Cllr Alan Baldock responded to a petition to the Council on Thursday 20 July to say that a pay rise would cost £300,000 to be implemented and that the council could not afford that amount [3].
GMB has previously calculated that paying the council's refuse drivers and loaders the market rate of £15 and £12 per hour respectively [4] would cost in the region of £90,000 per year.
Frank Macklin, GMB Regional Organiser said:
"Canterbury Council and its Leader are seriously out of touch.
"The one service that every household in Canterbury, Herne Bay and Whitstable receives is refuse and recycling.
"If the Labour Leader of the Council Alan Baldock thinks the voters would rather have another ten councillors or the Sturry Park and Ride resurrected, he needs to get out on some doorsteps and do some listening.
"Settling the strike by paying bin workers the local market rates of £12 an hour for loaders and £15 an hour for drivers would be much more popular than having even more councillors and the resurrection of a mothballed bus scheme.
"GMB advises any frustrated local residents to contact their local councillor and tell them so [5]."
Media Enquiries: Frank Macklin on 07983 326743
[1] https://www.kentonline.co.uk/canterbury/news/proposal-to-up-councillors-by-25-agreed-290764/
[2] https://www.kentonline.co.uk/canterbury/news/council-warned-against-gambling-the-house-on-reopening-park-290802/
[3] Recording of Cllr Baldock's speech to the council: https://youtu.be/sygScBXVbuM
[4] List of local authorities in South East England and their rates of pay for refuse workers:
Brighton & Hove – Drivers = £16.27 p/h; Loaders = £12.32 p/h
Adur & Worthing – Drivers = £16.59 p/h; Loaders = £12.46 p/h
Dover & Folkestone – Drivers = £15.50 p/h; Loaders = £12.00 p/h
Ashford – Drivers = £15.02 p/h; Loaders = £12.00
Swale – Drivers = £15.02 p/h; Loaders = £12.00
Winchester – Drivers = £15.50 p/h; Loaders = £12.00 p/h
Chichester – Drivers = £15.21 p/h; Loaders = £11.99 p/h
[5] Contact details for Canterbury City Councillors
| | | | |
| --- | --- | --- | --- |
| Name | Ward | Political Party | Email |
| Pat Edwards | Barton | Labour | Pat.Edwards@councillor.canterbury.gov.uk |
| Connie Nolan | Barton | Labour | Connie.Nolan@councillor.canterbury.gov.uk |
| Paul Prentice | Barton | Labour | paul.prentice@councillor.canterbury.gov.uk |
| Ian Stockley | Beltinge | Conservative | ian.stockley@councillor.canterbury.gov.uk |
| Jeanette Stockley | Beltinge | Conservative | jeanette.stockley@councillor.canterbury.gov.uk |
| Steph Jupe | Blean Forest | Liberal Democrats | steph.jupe@councillor.canterbury.gov.uk |
| Alex Ricketts | Blean Forest | Liberal Democrats | Alex.Ricketts@councillor.canterbury.gov.uk |
| Dan Smith | Blean Forest | Liberal Democrats | Dan.Smith@councillor.canterbury.gov.uk |
| Mike Bland | Chartham and Stone Street | Labour | mike.bland@councillor.canterbury.gov.uk |
| Alister Brady | Chartham and Stone Street | Labour | alister.brady@councillor.canterbury.gov.uk |
| James Flanagan | Chestfield | Liberal Democrats | james.flanagan@councillor.canterbury.gov.uk |
| Peter Old | Chestfield | Liberal Democrats | peter.old@councillor.canterbury.gov.uk |
| Steven Wheeler | Gorrell | The Green Party | steven.wheeler@councillor.canterbury.gov.uk |
| Chris Cornell | Gorrell | Labour | Chris.Cornell@councillor.canterbury.gov.uk |
| Clare Turnbull | Gorrell | The Green Party | clare.turnbull@councillor.canterbury.gov.uk |
| Dan Watkins | Greenhill | Conservative | Dan.Watkins@councillor.canterbury.gov.uk |
| Joe Howes | Herne and Broomfield | Conservative | joe.howes@councillor.canterbury.gov.uk |
| Robert Jones | Herne and Broomfield | Conservative | robert.jones@councillor.canterbury.gov.uk |
| Liz Harvey | Heron | Conservative | liz.harvey@councillor.canterbury.gov.uk |
| Tom Mellish | Heron | Labour | tom.mellish@councillor.canterbury.gov.uk |
| David Thomas | Heron | Conservative | david.thomas@councillor.canterbury.gov.uk |
| Lee Castle | Little Stour and Adisham | Liberal Democrats | lee.castle@councillor.canterbury.gov.uk |
| Mike Sole | Nailbourne | Liberal Democrats | Mike.Sole@councillor.canterbury.gov.uk |
| Alan Baldock | Northgate | Labour | alan.baldock@councillor.canterbury.gov.uk |
| Jean Butcher | Northgate | Labour | jean.butcher@councillor.canterbury.gov.uk |
| Rachel Carnac | Reculver | Conservative | rachel.carnac@councillor.canterbury.gov.uk |
| Charlotte Cornell | Seasalter | Labour | charlotte.cornell@councillor.canterbury.gov.uk |
| Naomi Smith | Seasalter | Labour | naomi.smith@councillor.canterbury.gov.uk |
| Elizabeth Carr-Ellis | St Stephen's | Labour | elizabeth.carr-ellis@councillor.canterbury.gov.uk |
| Mel Dawkins | St Stephen's | Labour | Mel.Dawkins@councillor.canterbury.gov.uk |
| Harry McKenzie | Sturry | Labour | harry.mckenzie@councillor.canterbury.gov.uk |
| Keji Moses | Sturry | Labour | keji.moses@councillor.canterbury.gov.uk |
| Keith Bothwell | Swalecliffe | The Green Party | keith.bothwell@councillor.canterbury.gov.uk |
| Simon Warley | Tankerton | Labour | simon.warley@councillor.canterbury.gov.uk |
| Andrew Harvey | West Bay | The Green Party | andrew.harvey@councillor.canterbury.gov.uk |
| Michael Dixey | Westgate | Liberal Democrats | michael.dixey@councillor.canterbury.gov.uk |
| Pip Hazelton | Westgate | Labour | pip.hazelton@councillor.canterbury.gov.uk |
| Dane Buckman | Wincheap | Labour | dane.buckman@councillor.canterbury.gov.uk |
| Roben Franklin | Wincheap | Liberal Democrats | roben.franklin@councillor.canterbury.gov.uk |