Wiltshire Traffic Wardens vote for further strike action in 'Fire & Rehire' dispute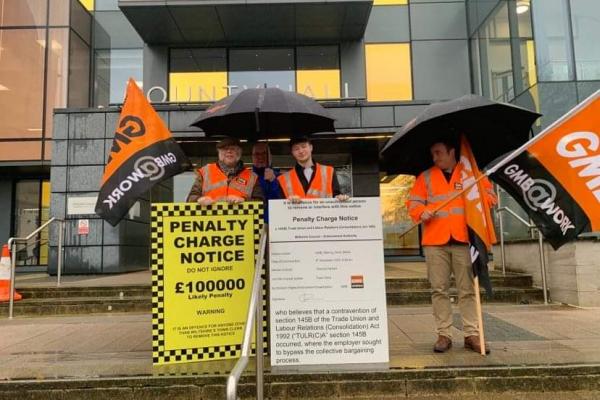 GMB would prefer an amicable, negotiated solution, but if the council don't compromise, we are ready for the fight, with a fresh strike mandate
GMB, the union for Wiltshire Council staff, has confirmed that members have voted for further strikes in the 'fire and rehire' dispute affecting many frontline key workers.
The dispute has already seen Civil Enforcement Officers (parking wardens) across the county take 10 days of strike action since plans were announced in 2021 to remove a contractual uplift for unsocial hours, which would cost hundreds of front-line workers up to 20 per cent of their salaries.
GMB also understands that despite denials by council bosses that 'fire and rehire' was ever on the table, Wiltshire Council sought legal advice from a top legal firm in June 2022, on how to use the tactic to force through this pay cut.
The strike ballot closed on Friday 19 May with 100 per cent of members who voted choosing to take action, thus extending the industrial action mandate.
David McMullen, GMB Regional Organiser said:
"Wiltshire Council needs to be very clear that this overwhelming vote for further strike action by our members shows their utter determination to resist the proposed pay cut which has been threatened for a year and a half.
"GMB has been forced to run another strike ballot for our members by the intransigence from the council's top bosses, who could have allowed the existing ballot to roll on.
"The Council, and we believe the decisions have been made right at the top by CEO Terence Herbert, have been dragging their feet, deliberately withholding information from us and refusing to respond to GMB's repeated attempts to seek a solution to this dispute.
"Council bosses have denied they have ever contemplated using 'fire and rehire', but GMB has in its possession documentary proof that in June 2022, the council sought legal advice from the solicitors firm, Bevan Brittan, where section 3.7 of the solicitors' response is advice to Wiltshire Council on "pushing through fire and rehire".
"GMB would prefer an amicable, negotiated solution, but if the council don't compromise, we are ready for the fight, with a fresh strike mandate."
Media enquiries: David McMullen on 07793 818 358