GMB Union Wiltshire bin strike to commence 28th February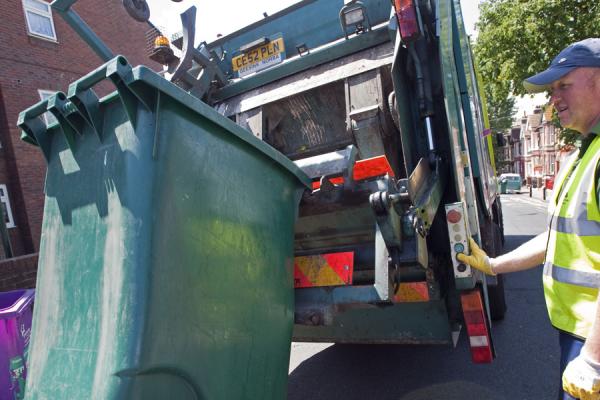 Delaying tactics and 'divide and conquer' attempts by Hills have all failed and we are nearly at the gates with a full on walk out of what could potentially be a very long dispute, say GMB Union
Members of GMB, the union for refuse and recycling workers, have issued Hills Municipal Collections Limited with the result of their strike ballot in Wiltshire, and today provided the company with dates for the first round of strike action.
There is a legal requirement to provide two weeks' notice to an employer and so the first date of strike action has been scheduled for 28th February, with further dates to follow in March.
The result of the ballot was comprehensively in favour of action, with 98.4% of respondents in favour of strike action and 98.3% in favour of action short of a strike, based on a ballot return of 84.7%.
The union's 70 members are employed across three sites in Trowbridge, Salisbury and Calne, and are angry after Hills imposed a 2 per cent pay award on part of the workforce without agreement of staff or the union.
The members are disappointed that the company failed to negotiate meaningfully with GMB for the rest of their operational workforce, leaving the entire workforce facing what will amount to a massive real terms pay cut.
Nicola Nixon, GMB Regional Organiser said: "We gave Hills the ballot result on Friday and with the result being such a clear mandate we have today served notice on the employer. We will now be working with our strike committee to arrange pickets for this first series of strike dates.
"We have to give two weeks' notice so time is running out if Hills want to get back around the table to discuss our members' pay expectations before any possible major disruption of waste and recycling collections for more than 250,000 homes.
"The trouble is that we can't negotiate on our own and despite GMB having the largest membership, Hills have done nothing to make us think that's going to change. We were told at our last meeting that there is an improved offer, but that they won't tell us what it is yet.
It's game playing, simple as that."
Gary Palmer, GMB Regional Organiser said: "This is another great ballot outcome for GMB members. The members are saying a resounding NO to low percentage pay offers, and telling management that they value themselves very much higher than their employer clearly does.
"Delaying tactics and 'divide and conquer' attempts by Hills have all failed and we are nearly at the gates with a full on walk out of what could potentially be a very long dispute.
"We of course will await their next call and make ourselves available, but the game playing has ended for our members and the ballot result will now be turned into action itself. It's going to take what our members consider a serious offer to see action suspended, otherwise strike is the only way forward from here"
"The members are asking for a 7% pay increase, which with food prices on the up, National Insurance about to jump up in April and fuel prices going through the roof, is little more that trying to keep their heads above water. Anything less than this is basically a pay cut.
"Perhaps Wiltshire Council should consider intervening here by insisting that Hills do the right thing and ensure that our members get the decent pay rise that all key workers should be receiving. Instead, they have been announcing a service redesign and round changes which will see our members' workloads increase and therefore their pay shrink.
"There is a mutually agreeable outcome out there, and GMB will work with Hills to find it on behalf of our members, but we will need Hills to commit fully, and to stop with their insulting offers."
Contact: Gary Palmer on 07552 165 950