GMB warns of escalating strikes and legal action for Wiltshire Council after ACAS talks break down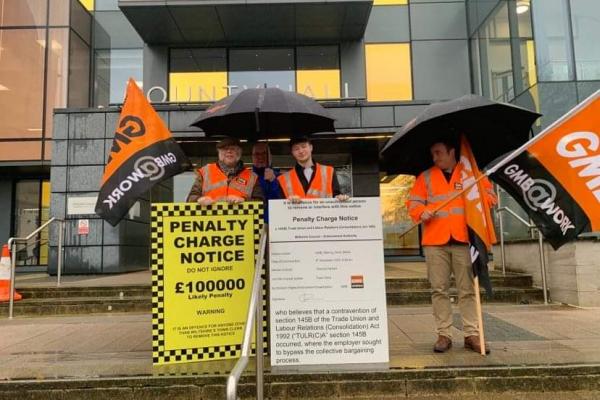 We have been met with a brick wall of obstruction from the council, who are literally refusing to provide us with the basic facts and information that would allow compromise to be discussed, says GMB
GMB, the union for Wiltshire Council staff, warns that further strikes by traffic wardens in the county are now highly likely, as ACAS facilitated talks designed to resolve a long running industrial dispute break down.
At the outset of talks, which started on 10 December, Wiltshire Council CEO Terence Herbert wrote to GMB union announcing that the council was not interested in using the talks "to avert strike action."
The proposed pay cut by the Council would require a change to staff contracts. As the staff have refused a voluntary change to the contracts, GMB warns that the Council must be planning 'fire and rehire.'
Wiltshire Council is proposing a pay cut of 20 per cent for social workers, who would lose around £7500, and a 10 per cent cut for traffic wardens, who would lose about £2500, with care workers, leisure centre staff and highways also affected.
Keith Roberts, GMB Regional Organiser said:
"For the last few weeks, GMB have been talking and corresponding with the council, assisted by ACAS, seeking in good faith to find a resolution to the dispute and we have offered to explore compromise to bring the two sides together.
"Unfortunately, we have been met with a brick wall of obstruction from the council, who are literally refusing to provide us with the basic facts and information that would allow compromise to be discussed.
"As a result, ACAS have withdrawn from the process because without the employer being prepared to engage there cannot be meaningful dialogue.
"The council simply ignore the fact that their staff have said no to the changes, yet have still only offered to delay them by 4 years.
"That is still a future pay cut and a sword hanging over staff already worried about spiralling living costs.
"Actually cutting take home pay of frontline staff is a hare-brained scheme that Wiltshire are alone in pursuing.
"Our members are not fighting for more money, they are just fighting to keep what they have now.
"GMB has already started litigation against Wiltshire Council over breaches of trade union law, should the council carry through with their threats to impose these changes on their workforce, they can expect not only further legal action, but also escalating strike action."
Contact: Keith Roberts on 07852 182348