St George's Hospital to face further strike action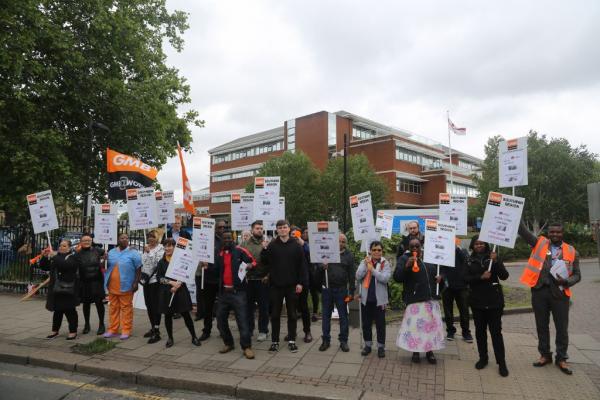 Mitie workers in the Tooting hospital will be taking a further 5 days of action
GMB, the union for all NHS workers, have announced that their members employed by Mitie at St George's Hospital will be extending their strike action for a further five days.
The union members are employed as cleaners and hostesses within the Tooting hospital and are in dispute with their employer over withheld pay and contract terms.
The workers are calling on the NHS trust to intervene in the discussions between GMB and Mitie in order to bring about a resolution to the action.
The further strike dates that have been announced are Sunday 17, Wednesday 20, Thursday 21, Saturday 23 and Sunday 24 July, with an agreement to 'work to rule' action short of a strike in between in addition.
Helen O'Connor, GMB Regional Organiser said:
"Our members have already undertaken ten days of strike action, and are standing strong in the face of management intimidation.
"They will not be cowed into returning to work without Mitie meeting us to discuss their very reasonable demands.
"This dispute was kicked off in April when the workers had pay withheld, and as a bare minimum they want those two weeks in hand paid back to them.
"It should be a basic right to be paid for hours worked and if Mitie gets away with withholding the pay of the lowest paid staff then it will give a green light to bad employers across the UK who may feel inclined to do the same thing.
"The ten days of strike action has been widely supported by patients, by clinical staff and across the Labour and Trade Union movement who are making donations to their strike fund.
"In spite of claims issued to the contrary, the strike action has hit the hospital hard and we are hearing that some of the managers who themselves took on cleaning and hostessing duties were incapable of managing the workload when the staff were out on strike.
"Our members are determined to fight to the end, so if St George's NHS fail to come around the table for talks this is likely to be a long and protracted dispute which will have implications for future audits and CQC inspections.
"The whole situation can be avoided in future by abolishing the two-tier workforce. Our members work in the NHS and should enjoy the same NHS contractual terms and conditions as everyone else who works in the hospital."
Contact: Helen O'Connor on 07506 711574