RMT boss Mick Lynch joins striking hospital workers in South London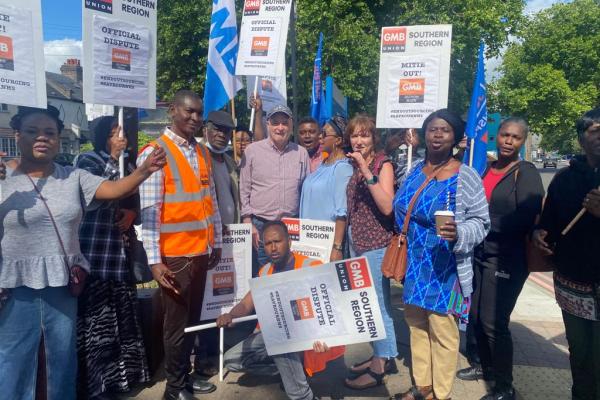 GMB union members at St George's Hospital were visited on the picket line by Mick Lynch
Striking hospital cleaners and hostesses were joined at a demonstration in South London by RMT union General Secretary Mick Lynch.
The workers, who are employed by Mitie at St George's Hospital, have so far undertaken ten days of strike action in their dispute over pay and conditions.
Mr Lynch pledged the full support of the RMT union to the striking workers and spoke to address them outside the hospital gates.
During his visit on Sunday [26 June], he spoke of the importance of unions working together to organise precarious workers.
He added that Mitie 'are like bandits' whose focus is 'not just about the money but driving down services and driving profits up'.
Helen O'Connor, GMB Regional Organiser, said:
"Our members were delighted when Mr Lynch visited them on the picket line this weekend.
"As well as agreeing to contribute to the members' strike fund, he was clear that RMT are fully behind these members' campaign against Mitie.
"Having seen him all over the news channels all week, some of our members were a bit starstruck, and to hear him talking so supportively meant a lot to these workers.
"Mr Lynch said that common standards should be agreed across the unions and that hospital cleaners should get fifteen pounds per hour at least, and I couldn't agree more.
"Our message to St George's NHS Trust remains the same: we are calling on them to do the right thing and bring this contract back in-house.
"This week of strike action has caused chaos in the hospital, and it is within the gift of the trust to offer them job security and better contracts.
"That they have taken ten days' action so far though shows their resolve, and they are prepared to take further action if they're not presented with a meaningful offer."