Vote for South London Aramark strike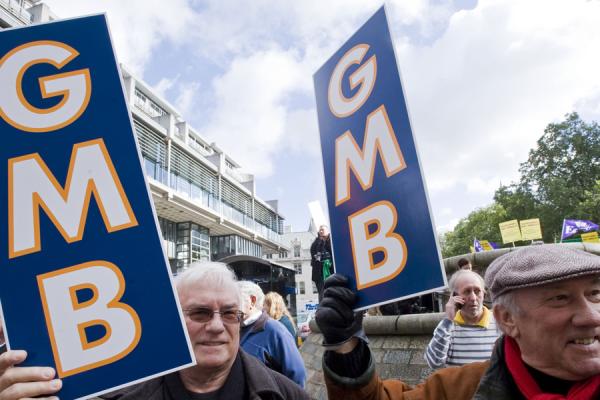 GMB Members across 4 south London hospitals vote for strike action to win £10 per hour, sick pay and unsocial hours payments.
With a profit of $1.4bn, multinational outsourcing provider Aramark can well afford to pay their staff a proper wage says GMB.
175 GMB members working as cleaners and hostesses for private contractor Aramark at South London and Maudsley NHS Trust voted 97% in favour of taking strike action to win a genuine living wage, suitable sick pay and unsocial hours payments.
Many of the staff who keep the four hospital sites clean and prepare and serve food to the patients are paid as little as £7.38 per hour and receive only 10 days of sick pay per year which is not paid in the first year of service or for the first 3 days of sickness.
The domestics and hostesses work at the Bethlem Royal Hospital in Beckenham, the Maudsley Hospital in Camberwell, the Ladywell Unit in Lewisham Hospital and Lambeth Hospital.
GMB members held demonstrations outside the Bethlem Royal and the Maudlsey on Tuesday 9th February 2016.
Nadine Houghton, GMB regional organiser said: "By voting in favour of strike action, our members have shown that they are serious about fighting for something that any worker should be entitled to: A wage they can live on and a sick pay scheme which ensures they won't be forced into poverty as a result of falling ill.
Aramark make a profit by paying workers as little as possible. GMB members in SLAM are now saying enough is enough and that they should be rewarded properly for the work they do.
We will be meeting our members to discuss a somewhat revised pay offer from Aramark and to ask them to confirm whether strike action is still the appropriate next step towards fair conditions for Aramark workers.
Aramark is a $14.3 billion, American owned, multinational outsourcing provider. They can afford to pay their staff a proper wage."
Contact Nadine Houghton on 07714239227 or Andy Prendergast on 07984492726 or GMB press office on 07970 863411 or 07739 182691