Victory for GMB members as Epsom & St Helier U-turn on car park charges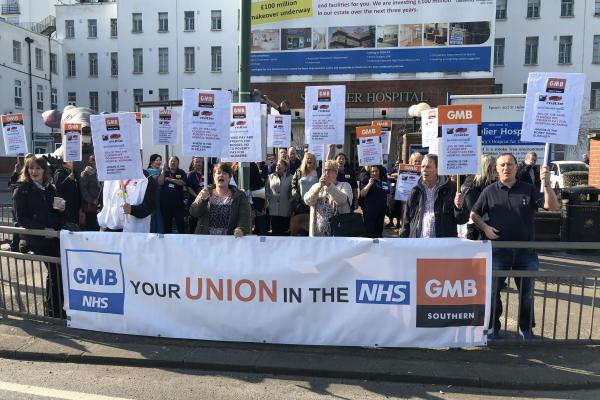 The Trust should now refund our NHS heroes for indefensible parking charges, say GMB Union
GMB, the union for NHS workers, is close to an important victory to help members within Epsom & St Helier NHS Trust.
Following sustained pressure from GMB union members, MPs and the local community, Epsom and St Helier NHS trust have decided to re offer free parking to those staff who need it.
The campaign proved too large for the Trust to ignore, as a petition submitted by members was taken up as a front page story by two national newspapers before being discussed on ITV's flagship breakfast program, Good Morning Britain. [1][2][3]
The union is now calling for the trust to refund staff who have paid for parking.
Helen O'Connor, GMB Regional Organiser said: "GMB welcomes this announcement but of course the devil is in the detail.
"Government minister Grant Shapps was clear in his announcement on Good Morning Britain that central government is covering the costs of hospital parking for staff, so GMB members are quite rightly requesting a refund of their hard-earned wages.
"These staff have worked tirelessly throughout the pandemic and are now demanding a refund of pay that is rightfully theirs.
"We hope that Epsom and St Helier NHS will do the decent thing and treat their staff with the respect they deserve and that this respect is reflected in decent wages, and fair terms and conditions.
"May this also act as a warning to other trusts who might be thinking of doing the same – GMB will not sit back and watch while you fleece our hard-working NHS heroes against government advice!"
Media enquiries: GMB Press Office on 07958 156846 or at press.office@gmb.org.uk
Notes to Editors:
[1] https://www.mirror.co.uk/news/uk-news/hospital-staff-died-covid-starts-23472195
[2] https://www.express.co.uk/news/uk/1395752/nhs-staff-car-parking-charges-reinstated/amp
[3] https://www.mirror.co.uk/tv/tv-news/piers-morgan-lashes-out-shameful-23473676