Staff being 'made to feel guilty' for raising concerns at BSUH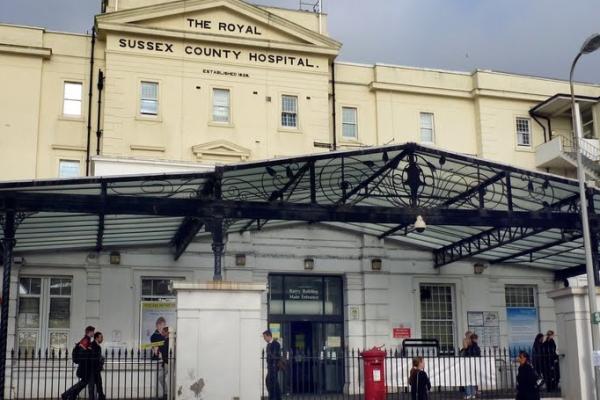 "The management of the infection control team are failing our NHS heroes with this flippant response to their very real concerns," says GMB Southern
GMB, the union for NHS workers, continue to be astounded by the failure of management at Brighton & Hove University Hospital Trust with their flippant response to genuine staff concerns over PPE.
At Royal Sussex County Hospital, front line workers in the Acute Admissions Unit have been left shocked by the Trust's response to fears over inappropriate PPE in high risk area.
The unit, itself classed as high risk, is where possible Covid-19 patients arriving at the hospital from ambulances or from A&E are assessed for symptoms, while they await testing. The unit also provides care for confirmed Covid patients for up to two days, before they can be transferred to a Covid long-stay area.
Despite the high-risk status, staff are still only being issued PPE classed for low-risk areas. This consists of a mask, a plastic apron and a pair of gloves, instead of the more protective versions which are readily available within the Trust's other Covid-19 areas.
When challenged by the team with genuine concerns, the infection control team and management's flippant response include, 'You can contract Covid anywhere besides our workplace, like the supermarket for instance, and let's face it, most of us will get it anyway, so get on with it or ask your manager to be redeployed.'
The AAU unit itself does not however have effective ventilation, so given the amount of exposure and the viral load that staff are being subjected to, staff should absolutely be given access to higher spec PPE, like respirator masks and long surgical gowns.
Gary Palmer, GMB Regional Organiser said: "I really struggle with understanding this blatant disregard of the safety of those staff at the coal face of the fight against the Covid-19 pandemic.
"Our members are being told to re-use disposable visors and even hand them over to the next shift. Staff are told that even single use surgical masks must be worn for the whole day unless they get wet.
"The Trust has a duty as an employer to keep all their staff safe and protected, and not be the sole arbiter of who gets to go home from work safely and who does not. In this, they are clearly failing.
"GMB members within the assessment unit and other clinical areas are telling us that lots of the staff are in self-isolation, having tested positive for Covid-19. Some have even been admitted to hospital and unfortunately a number of frontline NHS staff have even ended up in intensive care, being intubated.
"I'm sure the Trust would never risk a patient's life by administering out of date medicines, yet they are happy to put frontline staff at risk by fobbing them off with 5 year old, out of date, substandard equipment that had been forgotten about in a cupboard somewhere!
"Staff are very deliberately being made to feel guilty for raising concerns over safety and asking for better PPE, by a management team who are telling them that it will be their fault if the Trust runs out of higher-spec PPE in areas that need it the most, like ITU.
"Responses like our members get when raising their concerns are not acceptable, and clearly having nursing staff with confirmed case means perhaps as employers they are just not doing enough to protect those who are seeking to protect us and our families.
"BSUH must stop risking the most valuable resource we have in the fight against Covid-19."
Contact: Gary Palmer on 07552165950