Second day of strike action for Serco Environmental Services workers in Haywards Heath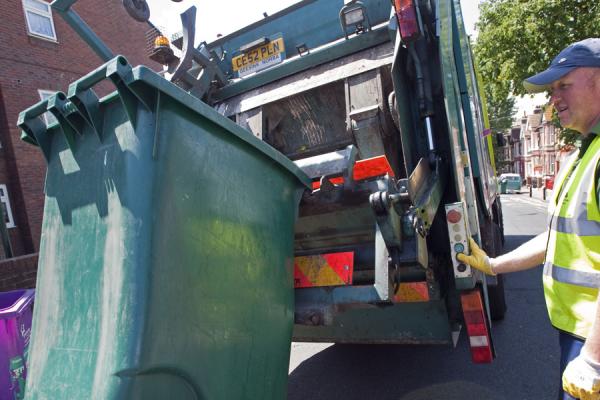 "At this time, the mandate from the GMB members is to retract from the NJC", says GMB Southern
GMB members working for Serco Environmental Services at the Bridge Road Depot in Haywards Heath, Mid Sussex, will be holding their second day of strike action tomorrow (Thursday 5 September), following on from last week's strike on 29 August. This comes after their request for a 15 per cent pay rise was declined.
Since taking over the waste contract in Mid Sussex in July 2007, Serco have tied members in to pay increases in line with the National Joint Council for Local Government Services' (NJC) pay awards. However, members have tried to retract from the NJC due to the Government's austerity policy of pay freezes and lower than inflation pay reviews greatly reducing their pay in real terms.
Two offers have been put by members to Serco. One involving continuing to shadow the NJC and the other to retract from it. Continuing to shadow the NJC would involve accepting 2018-2020 pay offer with equivalent % pay increase in relation to where staff would naturally fit to the NJC pay spine and continuing within the NJC pay awards until the conclusion of the current MSDC contract. Retracting from the NJC would mean negotiations would then fall under collective bargaining and identified bargaining units within the SMSC to comply with 178 of Trade Union and Labour Relations (Consolidation) Act after amendment, Trade Union Act 2016.
Declan Macintyre, GMB Regional Organiser said: "At this time, the mandate from the GMB members is to retract from the NJC. To this end, we would request a proposal of 15% for all staff in the SMSC. If this not be agreeable, we also have a mandate to look at each bargaining unit and take in to account the last 8 years pay freeze and caps (NJC) with RPI (the basic calculator given previously.)
"I am sure that if we are able to agree to the first option, the GMB members will see the longer term benefits, rather than the short term and will go a long way to rationalising the service for Serco on the MSDC contract and also giving future benefits such as recruitment and retention of staff.
"We have been in pay talks for over 2 and a quarter year with Serco and we identified case law prohibiting the tie-in of the NJC (Alemo-Herron and others v Parkwood Leisure Ltd C-425/1) given to the employer's side in February 2016. After a number of pay meetings, Serco, elected without notice, to impose the NJC 2 year pay award in August 2018.
Serco also ignored prior request for financial information in line with The Information and Consultation of Employees Regulations (often abbreviated to the ICE Regs.)
Serco have ignored the members and rep throughout this period.
"The members, have historically, avoided taking any form of industrial action and are dedicated to their job of serving the community and feel that they have been forced by Serco to take this action.
"We have ongoing action short of strike action in the form of a work to rule and 2 single days of strike action live at the moment.
"Both parties are now engaging with ACAS."
Contact: Declan Macintyre 07773 311836 or GMB Southern Press Office 07970 114762