South East Coast Ambulance Trust first NHS employer to sign GMB Neurodiversity Charter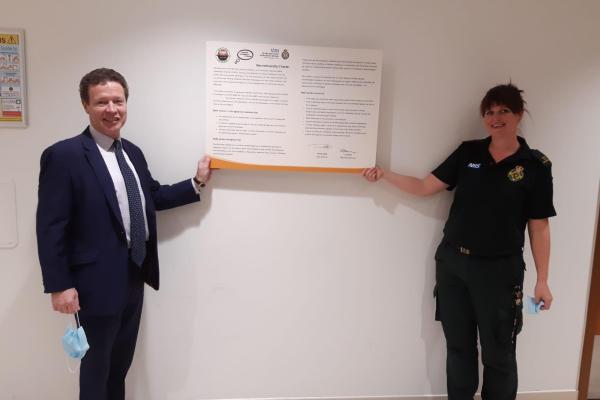 GMB has welcomed the ambulance service providers commitment to neurodivergent workers by signing up to the GMB's 'thinking differently at work' charter
GMB the union for ambulance workers has welcomed South East Coast Ambulance Service NHS Foundation Trust (SECAmb) signing of the neurodiversity charter. [1]
The move means the Trust will become the first NHS employer to commit to better provide better working conditions for disabled workers under the agreement.
Neurodiversity is a term that recognises that conditions including dyspraxia, dyslexia, autism spectrum conditions, ADHD, dyscalculia and dysgraphia are natural variations in the way people think and process information.
The term recognises both the strengths that can derive from thinking differently, and that the difficulties that some people may encounter in workplaces can be addressed through inclusive employment practices.
GMB's Thinking Differently at Work campaign calls on employers to create a positive working environment for neurodivergent workers. [2]
GMB rep Jo Smith said: "GMB is proud and honoured to be leading the way for Neurodivergent workers in the NHS. We are confident that with the support from the Trust we can make SECAmb as a leader for other Trusts to follow in becoming a Neurodiversity-friendly employer.
"I am honoured to be leading on this campaign on behalf of GMB, making sure the Neurodiverse community have a voice and support.
"Being able to say that we're the first ambulance service in the UK to sign this charter is something I will forever be proud of."
SECAmb CEO Philip Astle said: "I am proud to sign this charter which places SECAmb on the frontline for other Trusts to follow and aspire to in also becoming a Neurodiversity-friendly employer.
"It is important that we work with colleagues to enable them to be the best they can by not only implementing reasonable adjustments, but by also considering what we can do to take into account differing needs at the start of planning processes and policies.
The charter is a key step in this, outlining our commitment to being a more neurodiversity friendly organisation and supporting colleagues."
Media enquiries: GMB Press Office on 07958 156846 or at press.office@gmb.org.uk
Notes to Editors:
[1] Picture attached ( L to R; Phillip Astle, Jo Smith)