Peacehaven schools call off strike as Governors vote against academisation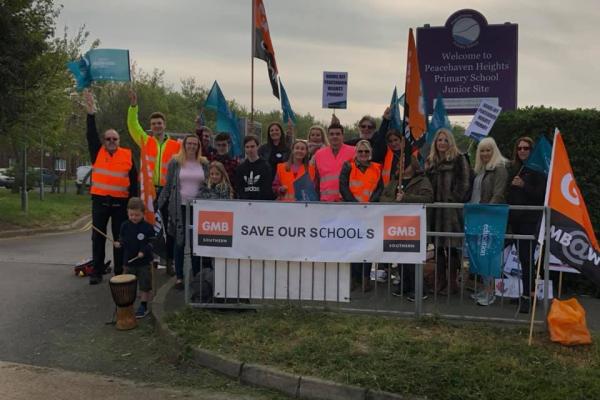 "The town of Peacehaven sent an absolutely clear message to East Sussex County Council that we will not stand by as they try to force our schools into private academy hands", says GMB Southern
GMB and NEU members working at Peacehaven Heights Primary and Telscombe Cliffs Primary schools in Peacehaven have called off further strike action due to take place on Thursday and further strikes in June after Governors at both schools voted against academisation of both schools.
In a letter to parents and staff at Peacehaven Heights School the Governors announced "after much careful consideration, the Governing body has now reached a decision regarding the best way forward for the future of our school. We believe this is to remain as a maintained school under the auspices of East Sussex Local Authority."
In January, Governors at Peacehaven Heights and Telscombe Cliffs wrote to parents telling them that on the advice of the local authority, East Sussex County Council, they must now join an academy trust.
This lead to a series of staff union meetings in both schools with GMB and NEU members passing an anti-academy motion sent to the Governing Body, the formation of a parents campaign group @HandsOffOurSchools and the support staff and teachers at both schools voting overwhelmingly for strike action against any academisation.
The first strike took place on 1st May at the school, alongside Peacehaven Community School who are facing imminent academisation to a SWALE academy. The strikes were supported by the parents and local community, resulting in a march and rally in the town which saw 250 people march against academisation.
Lib Whitfield, GMB Regional Organiser said: "This campaign against academisation of schools in Peacehaven saw an overwhelming amount of support with the local community, the local MP coming together to support the staff and parents at the school in their fight against the Academisation agenda.
"The town of Peacehaven sent an absolutely clear message to East Sussex County Council that we will not stand by as they try to force our schools into private academy hands, against the interest of the staff and children.
"The academisation agenda has failed and the people will stand against attempts to force our local schools into academisation. The GMB members took strike action at Peacehaven Heights in order to protect their school and the children's education and we would like to thank the Governors at Peacehaven Heights for voting in favour of keeping our school in the local authority for the best interest of everyone.
"Parents, children and staff will assemble outside Peacehaven Heights Infant school on Thursday 23rd May at 3.30pm to celebrate the Governors decision to keep our school out of Academy hands and the local community is welcome to join us."
Contact: Lib Whitfield 07583 182085 or GMB Southern Press Office 07970 114762
Notes to Editors: Previous GMB Press Release - Support staff at Peacehaven school strike over threat of academisation (2 May 2019) https://www.gmb-southern.org.uk/news/community-rallies-around-peacehaven-school-strikes