GMB strike action ballot for Mitie staff at St George's Hospital starts tomorrow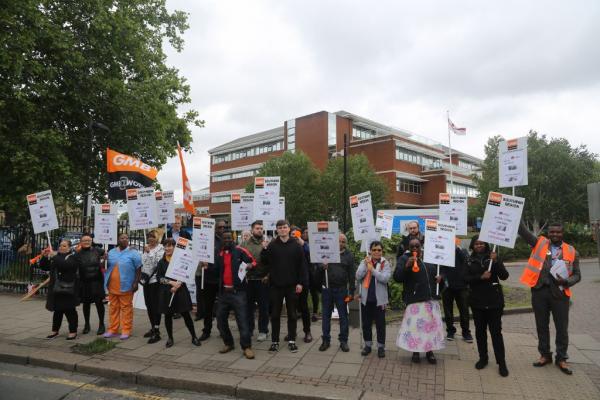 "There is no redundancy situation in that the employers need for staff has diminished or ceased as exact opposite is the case and staff are working flat out", says GMB Southern
The GMB ballot for official strike action for members employed by outsourced contractor Mitie at St George's Hospital in Tooting over bogus redundancies among cleaners and catering staff will commence tomorrow (9th July).
The ballot for the 300 plus members will run until 19th July.
GMB members are gearing up to take strike action after members revealed Mitie's plans to half the number of cleaners working in operating theatres at St George's Hospital to two per area as part of a restructure that will see 40 cleaning and hostess jobs go and workers' hours slashed across the hospital site.
Mitie are also proposing that hospital cleaners handle patient's food as part of swingeing staff cuts that will lead to dirty hospital wards, contaminated food and increased cross infection risks for patients.
Last month GMB conducted an indicative ballot of its members at St George's Hospital to see if they want to take strike action over cutbacks being imposed on them by private provider Mitie. The ballot resulted in overwhelming support for an official strike ballot with a result of 99.5%.
Helen O'Connor, GMB Regional Organiser said: "This is a blatant attempt by the outsourced contractor Mitie at St George's Hospital to increase the profit margins on this new contract at the expense of the patients and the workforce.
"There is no redundancy situation in that the employers need for staff has diminished or ceased. The exact opposite is the case. The staff are working flat out. With less of them and them doubling up on cleaning and catering, patients, many of whom are critically ill, will be put at serious risk.
"It is the board of the NHS Trust that should be guarding against these risks. They should consider these proposals from Mitie at St George's Hospital to be a fundamental breach of contract and return the service back into direct employment."
Contact: Helen O'Connor 07506 711574 or GMB Southern Press Office 07970 114762
Previous GMB Press Releases
1] "St Georges Hospital strike over bogus redundancy" (4 July 2019) https://www.gmb-southern.org.uk/news/st-georges-hospital-strike-over-bogus-redundancy
2] "Strike action looms at St Georges Hospital as ballot moves a step closer" (28 June 2019) https://www.gmb-southern.org.uk/news/strike-action-looms-st-georges-hospital-ballot-closer