Join as Tolpuddle – camping and transport details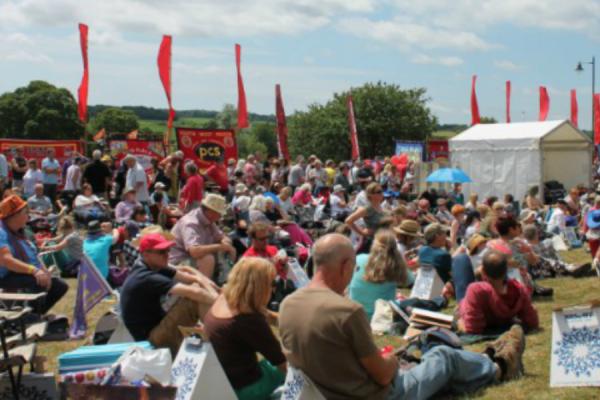 GMB@Tolpuddle will be welcoming GMB members for their 2016 camping and festival experience in Tolpuddle, Dorset from Midday, Monday 11th July with camping facilities closing at Midday, Monday 18th July.
Following the success of last year's event, GMB are pleased to announce that further opportunities for travel to the event and also the opportunity for members to obtain tickets for the main TUC festival through GMB on-site voluntary work will also be available.
GMB have historically had a considerable number of members travelling by coach along the South Coast to the main Banner Parade on the Sunday with pick up points being Portsmouth, Fareham, Southampton, Bournemouth and Poole. This journey which will be repeated this year, however demand is now stretching further afield. GMB members will now have the opportunity to travel from Regional Office, Chessington, with a further pick up point in Epsom, and from Swindon.
Should you be interested or have any queries in respect of either coach, please contact:
Coach 1 – Chessington, Epsom
0900 – GMB REGIONAL OFFICE – CHESSINGTON – KT9 1EA
0915 – LONG MEAD BUSINESS CENTRE – EPSOM – KT19 9QN
TO RETURN/LEAVE TOLPUDDLE – 1800
TO BOOK SEATS CONTACT
0208 397 8881 TO SPEAK TO LAUREN OR E-MAIL
lauren.shurgold@gmb.org.uk
Coach 2 – Portsmouth, Fareham, Southampton, Bournemouth, Poole
Pick up points
0830 – Hard Interchange – Portsmouth
0845 – Hilsea Lido
0910 – Layby – M27 Fareham Junction – slip Road
0930 – Bitterne Park Tesco – (opposite Church)
0945 – Totton – Rushington Roundabout
0955 – Colonade – Opp Woolston Post Office
1010 – Lordshill Sainsburys
1050 – Bournemouth/Poole – Mountbatten Public House
LEAVE/RETURNING 1700
TO BOOK COACH SEATS CONTACT
01489 578665
Or e-mail tolpuddle@gmb.org.uk
Coach 3 – Swindon
Contact 01793 8181005