ISS day of action on April 11th in South London and Surrey hospitals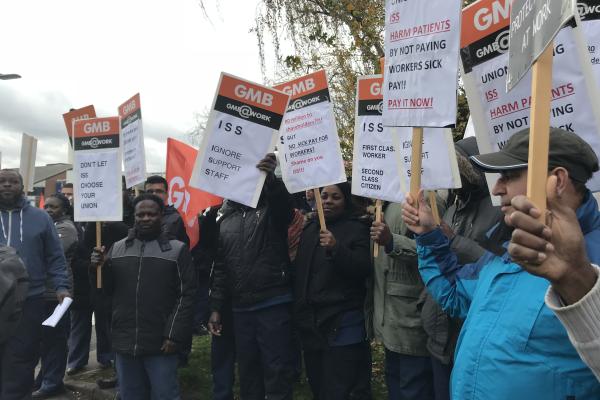 "We will leave no stone unturned to organise our members to fight back and this co-ordinated day of action across the NHS trusts is just the beginning", says GMB Southern
GMB members will hold a 'co-ordinated day of protest' on April 11th against ISS pay harmonisation across hospitals in London and the South East. This follows a protest at Kingston Hospital on Wednesday 27th over this.
This action is in response to ISS, who hold the cleaning, catering, portering and security contracts in hospitals across London and North Surrey, announcement of disruptive changes to their pay cycle that they are calling 'project greenfield'. This pay harmonisation drive is being rolled out nationally and it is infuriating ISS workers who are being told that wages will be held back from them for various periods depending on their pay date.
These members have appealed for foodbanks to be set up in the affected trusts to cope with periods when they will be waiting to be paid and will have no money.
Workers are affected at Kingston NHS trust, Greenwich and Lewisham NHS trust, Surrey and Borders NHS Trust, South London and Maudsley NHS trust and Oxleas NHS trusts. There will be protests at all these Trusts on April 11th. Details will follow in further press releases.
Helen O'Connor, GMB Regional Officer, said: "ISS can rest assured that GMB will leave no stone unturned to organise our members to fight back. This co-ordinated day of action across the NHS trusts is just the beginning.
These workers who are already living hand to mouth and who are forced to go into work when they are ill due to the wholly inadequate ISS 'sick pay' scheme are now suffering further from the appalling management methods of the ISS tops. Workers are further enraged by the company offering them 'bridging loans' of their own wages that will then need to be 'paid back' to the company over the remainder of the year. ISS will be enjoying interest on the workers' wages while the workforce have serious concerns how they will survive the shortfall in wages.
ISS continue in their efforts to drive down the pay, terms and conditions of hard-working NHS employees but GMB members across the hospitals have now had enough of their management methods. The ISS tops need to realise that they are dealing with human beings and the more they try to sweat the workforce to swell their profits the more they are enraging them.
It is not good for hospitals or patients to have an ill-treated, angry and demoralised workforce. We started our campaign against ISS in Kingston hospital(#kingstonhospcampaign) which has won huge public support simply because patients and the public can see that if hospital workers terms and conditions are driven down this will create a lowering of standards within a hospital. The London Living Wage is £10.55 per hour. ISS are paying way below this.
GMB Regional Secretary Paul Maloney and I were invited to address the Kingston hospital Trust Board during a protest there yesterday and we made our concerns about outsourcing crystal clear to the board who spent the afternoon debating the issue."
Contact: Helen O'Connor 07506 711 574 or GMB Southern Press Office 0758 303 9451
Notes to editors:
Copy of GMB Southern previous press release on this dispute: https://www.gmb-southern.org.uk/news/gmb-to-hold-iss-protest-during-kingston-hospital-trust-board-meeting