GMB welcome Nationwide pay cut U-turn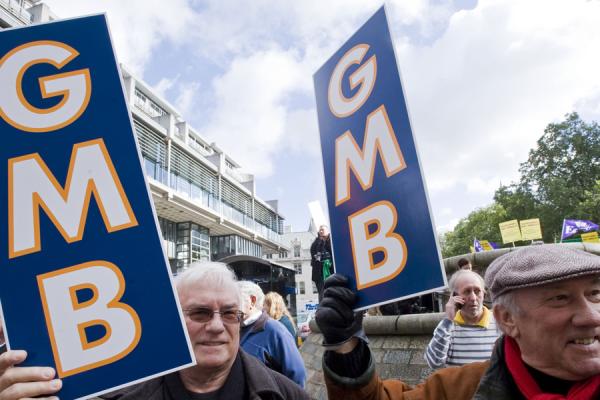 GMB has welcomed the cancellation of proposed pay cuts for cleaners working for Carillion at Nationwide headquarters, following the announcement by GMB that it was balloting its members for industrial action.
GMB has now called off the ballot, as all the objectives of the proposed industrial action have been achieved. (See notes to editors for GMB press releases about Nationwide staff)
Carillion had advised GMB members that new shifts would be introduced on 23rd May with reduced hours, so that most staff would have been £40 per week worse off.
Originally, Carillion claimed in writing that the reason for the changes was because this was what Nationwide wanted to happen, and that the changes were due to a change in Nationwide's requirement for the contract. In a further letter handed to staff, Carillion now claims that it was the initiator of the change.
Nationwide is a principal partner for the Living Wage Foundation and recently announced that all contractors, including the cleaners at Nationwide House, would have their hourly rate raised to £8.25 per hour. The living wage promoted by the Living Wage Foundation is distinct from the new National Living Wage introduced by the government and is a voluntary commitment from employers. The reduced hours proposed by Carillion would have led to pay cuts of £40 per week, even with the new higher hourly rate.
Although Carillion eventually backed down in the face of proposed strike action, it refused to consult or negotiate with GMB, the cleaners' union, despite the fact that 100% of the cleaners are members and that they had voted to reject the changes.
Carillion has a long track record as an anti-trade union employer, and was involved in the unlawful blacklisting of trade union activists through the now defunct organisation, the Consulting Association.
Carole Vallelly. GMB Regional Organiser, said: "I am very proud of our members who stood together, and showed that when we unite and stand up to bullying employers, it is working people who have the power.
Their employer, Carillion, sought to bring in shift changes which would have forced the cleaners onto incredibly anti-social hours that would have been incompatible with family life; and most of them would have lost around £40 per week.
Carillion failed to conduct meaningful consultation. They handed our members letters saying that one to one consultations would be held first thing the very next morning, making it difficult for them to consult their union, and making it impossible for them to arrange trade union representation in time for the meetings. When GMB approached Carillion, after our members unanimously rejected the pay cuts and shift changes at a mass meeting, Carillion declined to negotiate with the union.
GMB has experience with Carillion and as an employer they seem stuck in a time warp of macho anti-union posturing. Had Carillion been prepared to talk, it may well have been possible for a resolution to have been reached without our members having to contemplate strike action.
Nationwide prides itself on being a living wage employer and an ethical business. And yet, it chooses to employ its cleaners through a rogue employer like Carillion that is up to its neck in blacklisting, refuses to seek resolution to disputes through talks, and that one minute blames Nationwide for changes to staff conditions and the next minute says that the changes were its own idea.
Despite the so-called ethical stance of Nationwide, it was not Nationwide's ethics which stopped our members being forced onto anti-social hours and having savage pay cuts. These changes were only stopped by the threat of industrial action from GMB.
GMB calls on Nationwide to put its money where its mouth is, and insist that its contractors have a respectful and modern approach to industrial relations, so that any potential disputes can be dealt with by talks and negotiations. Our members have shown that they are strong and united, and if their employer does attack their pay, terms and conditions or shifts, then they are prepared to take industrial action."