GMB urge Royal Berkshire Hospital to withdraw proposals for dangerous shifts patterns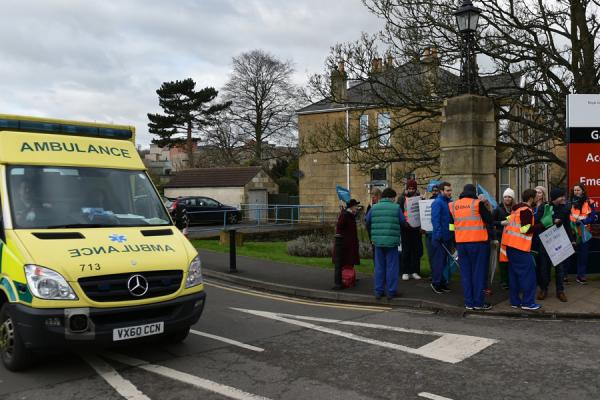 GMB urge Royal Berkshire Hospital to withdraw proposals for dangerous shifts patterns for overworked A&E staff. "If these staff are forced to do pointlessly long shifts at all hours of the day and night, they may be too tired to cope with the constant stress and demands of their front line role in A&E," says GMB Southern Region
Overstretched A&E staff at the Royal Berkshire Hospital in Reading are threatened with having to do 12.5 hour shifts.
Staff at the Royal Berkshire Hospital who run all of the reception desks in A&E are currently being consulted over plans to change their shifts to 12.5 hour shifts, and to make all staff work an exhausting rota of a mixture of days, nights and evenings.
GMB Union is working with staff to push back against the changes to try and defend the staff and the department against the well-documented damage of doing such long hours and difficult shift patterns.
Regional Organiser for the GMB, Nikki Dancey said, "These staff are the front line in the A&E department and are the first to deal with all the patients and their families who come in for emergency treatment. People who arrive at A&E are understandably very stressed – often in lots of pain, feeling scared and wanting treatment and assurance as quickly as possible. The staff have important work to do, as well as trying to keep people calm so that the department runs well and safely for all the patients, as well as the doctors and nurses who treat them.
"Due to the brutal government cuts, patients in A&E are not always getting treated as quickly as staff would like. The deliberate underfunding of the NHS is shown in the critically low morale, the years of pay cuts and a culture of skeleton staffing at every level of our health service. If these staff are forced to do pointlessly long shifts at all hours of the day and night, they may be too tired to cope with the constant stress and demands of their front line role in A&E as well. This has an impact on everyone living in Reading who may need them in the future."
GMB Branch Secretary for Reading, David McMullen added "Most staff we have spoken to don't want to change their working hours and patterns. Many of these are highly experienced staff who have worked extremely hard over many years in their jobs, and feel that this may even be an effort to force experienced staff out of work so that newer, cheaper staff on worse terms can be employed in their place. We need the specialised skills and experience of the best staff in place across our NHS, so that we can all rest easy that we will get the best care possible if any of us find ourselves injured or ill in our local A&E."
"The consultation will be happening over the next few weeks, with no final decision being released until October."
Contact: Nikki Dancey, GMB Reading, 01189 505745 or GMB Southern Press Office on 0758 303 9451
Notes to Editors:
The Royal Berkshire Hospital in Reading, provides accident and emergency services for Reading and the surrounding towns, with a local population estimated to over 300,000, with around 200,000 more potential patients in West Berkshire and South Oxfordshire.
In 2017/18, patients arriving at RBH accident and emergency department waited longer than 12hours from arrival to admission, discharge or transfer 550 times. This was an increase from 96 occasions in the previous year.