GMB to set up food banks for ISS workers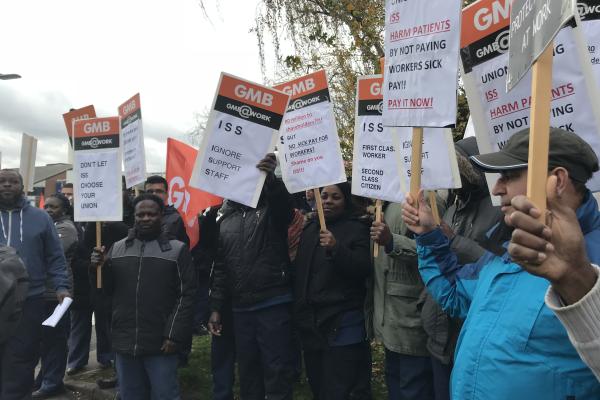 "ISS are rubbing salt into the wound by asking their workforce to take out 'bridging loans' to enable them to change the pay cycles", says GMB Southern
GMB, the union for ISS staff, are to set up food banks for staff at hospitals across London and the South East. Outsourcing giant ISS holds the cleaning, catering, portering and security contracts in hospitals across South London including Lewisham and Greenwich NHS trust, Oxleas NHS trust, South London and Maudsley NHS trust, Surrey and Borders NHS trust and in Kingston Hospital.
There has been a long running campaign in Kingston Hospital to fight for sick pay from day one for workers. ISS have now announced national changes to their pay cycle that means wages will be held back from their workforce who already live hand to mouth.
Desperate hospital workers concerned about how they will pay rent and feed their families are flocking to sign mass grievances against ISS across the hospital sites.
Helen O'Connor, GMB Regional Organiser said: "There is growing anger against ISS and their management methods. This latest pay harmonisation project will leave low paid workers without their wages for up to a week.
"ISS are rubbing salt into the wound by asking their workforce to take out 'bridging loans' to enable them to change the pay cycles. It's disgraceful that hard working hospital workers are forced to turn to food banks in order to survive day to day. GMB members are already angry about low pay, frequent 'pay errors' leaving them short of pay and having to go into work sick due to an inadequate sick pay scheme. This 'pay harmonisation drive' is the last straw.
"GMB will not allow senior hospital managers to turn a blind eye to the suffering of a vital part of the hospital workforce. GMB Union is writing to hospital trust boards to make the point that these workers jobs are essential to the smooth running of the hospitals and will be requesting that NHS trusts who have outsourced to ISS make hardship payments to ISS workers and also to assist GMB Union to set up accessible food bank facilities on the affected hospital sites.
"GMB will be appealing to clinical staff, the public and hospital patients for donations for ISS workers."
Contact: Helen O'Connor 07506 711 574 or GMB Southern Press Office 07970 114762