GMB support member in Brighton Council Labour Party selections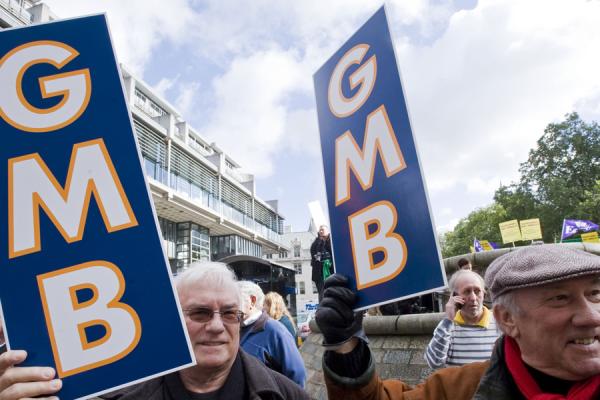 Tonight Labour Party members in Moulsecoomb and Bevendean ward in brighton will select their council Candidate for brighton council elections in 2019. The meeting will take place TONIGHT MONDAY 23rd July at 7pm in Moulsecoomb Community Leisure Centre
Amanda Jane Scales is a long-standing GMB member and workplace activist. GMB believe she will make an excellent local councillor. Here her GMB branch secretary explains why:
Amanda Scales has been an active member within our GMB branch and workplace for many years, representing and supporting our members across all issues, in particular in regards to equality and diversity.
Just as one example Amanda is currently doing talks around branch meetings across lodon and the South East in regards to menopause, a campaign she has developed herself and led on for the GMB Southern region.
Amanda has been a delegate for our branch at GMB National Congress and also for Regional Women"s Conference, playing an active part at both, raising and campaigning on matters affecting GMB members. Amanda has also played a large part in the organising of GMB Sussex branches participation in Brighton priderepresenting Southern region.
Amanda has always been a dedicated and devoted representative, committeed to supportingall members with their issues and concerns and we believe all the above would ensure she would be a great councillor camdiate.
Mark Turner
GMB Branch Secretary
GMB Sussex
See below for more info from Amanda:
Dear Moulsecoomb and Bevendean Branch Members,
I would like to introduce myself as a potential candidate for your ward.
My name is Amanda Jane Scales and I am originally from Manchester but have been in Brighton since the age of 12. I am proud to call it my home. I have been a member of the Labour party for 4 years and was Chair of Portslade branch, where I was involved in the LAT and am now Vice chair of Woodingdean. I have taken part in many campaigns and was proud to be part of the team that helped Lloyd Russell Moyle win in 2017!
My main reason for wanting to represent you in Council is personal. In the last few years I have fought to overcome severe difficulties that I know many families in Moulescomb and Bevendean also face as result of Tory austerity. In 2017 I faced the traumatic ordeal of homelessness and had to fight tooth and nail for the temporary accommodation where I still live. The single parent of a child with severe mental health problems, I have experienced the despair of having no one answer calls to a crisis line. Additionally, I have had to support three family members undergo harrowing and cruel PIP assessments. As a result, I feel I will be an excellent case worker, able to support and fight for individual members of your community when they confront similar problems.
More recently, I have developed skills to also support collective action in my role as GMB workplace organiser at the Pavilion. Faced with the threat of losing our jobs, my colleagues have united and taken action against Council outsourcing. I have learnt a great deal from this process that I believe will make me more effective in supporting and representing your community interests.
I know I still have much to learn about your priorities, but these are some of the issues I feel passionately about and would like to discuss further with you:
Representing Moulsecoomb and Bevendean residents' housing concerns: My personal struggles with homelessness make me passionately committed towards enlarging the council housing stock and trying to ensure that all social housing rents are realistically affordable.
Listening to Moulsecoomb and Bevendean residents' education concerns: Education is important to me and I am a qualified teacher. I strongly believe and will fight for educational equality that is being threatened here with upcoming cuts to Moulsecoomb Primary school. I look forward to exploring what can be done locally to reduce the impact on local families.
Working to help people in Moulescomb and Bevendean get decent social care: The Tory Government's austerity programme has led to cuts in health and social care budgets with devastating effects such as mental health problems and drug, substance and alcohol dependency. I would like to work with others in the community to ensure there are adequate safety nets for those most vulnerable to these afflictions.
Protecting youth services and amenities for Moulescomb and Bevendean: I live on a council estate and know what happens when vital services and free amenities like parks and youth clubs are cut. As your councillor I would defend these services and make sure those on the outskirts of the city are not forgotten. We deserve the very best!
Conserving the environment: I know you are passionate about protecting your environment and keeping it clean. I look forward to learning from your expertise and helping support your ongoing work in this area.
Brighton and Hove is a great place to live but without a strong labour majority on the Council, the city will suffer. It is time for those of us who are passionate about making a difference to be given a chance to prove ourselves. I truly believe that with all our combined efforts and Jeremy Corbyn as our Prime Minster we can make the changes that matter to those most in need.
If you believe this too then let's work together. I promise to listen to your problems and suggestions.
Let me prove to you that I am dedicated, hardworking and totally committed to doing the very best I can for your community and our wonderful city.
If you have any further queries, then please do not hesitate to contact me at amandajanebrightonlabour@gmail.com
Solidarity
Amanda Jane Scales