GMB slams toxic culture within SECAMB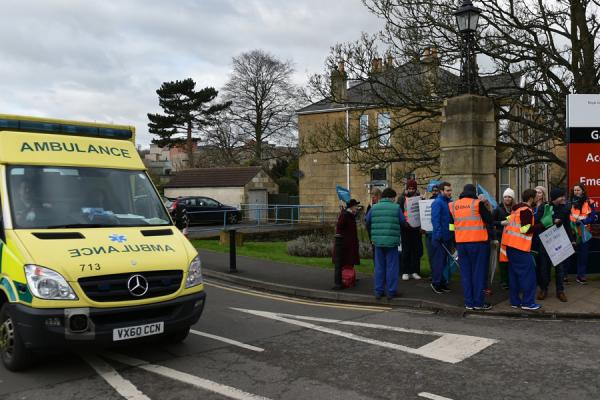 GMB, the union for Ambulance staff, has criticised the toxic culture within South East Coast Ambulance Service after it emerged an injured football player was left with a three hour wait for an ambulance despite calling 999 six times.
The incident, discussed in the House of Lords on Wednesday [1], highlights serious issues within the service.
Baroness Smith of Basildon told the House of Lords that on September 23, Bognor Regis Town Football Club called 999 six times and eventually, after almost three hours, had to take an injured player in considerable pain to hospital by car.
She added it was "not an isolated incident" and a recent CQC report exposed "a toxic atmosphere"
In reply, Lord O'Shaughnessy questioned the leadership and management of the trust.
Elizabeth Whitfield, GMB Regional Organiser, said: "This incident highlights how SECAMB Trust is plagued with serious issues, as highlighted in the damming CQC report last year and another one just last month which kept the trust in special measures.
"All Ambulance trusts are facing severe budget cuts due to the Government's austerity agenda and despite an slight increase in staffing in SECAMB this year, it's is still not enough to meet the demands on the service.
"The Duncan Lewis report in August raised further serious concerns about an endemic culture of bullying and harassment putting staff at serious risk and GMB has been at the forefront of demanding meaningful change within the Trust.
"Daren Mochrie has been in place as chief executive since April and whilst he has made a commitment to staff and GMB to address the issues with staff welfare, bullying, stress and the pressures on staff this is meaningless unless the serious issues with the leadership and management within the trust that have been identified in every report are actually addressed.
"If the management and directors responsible for the toxic culture within SECAMB are never held accountable for their actions and behaviour and instead are allowed to carry on with the status quo, then the trust will continue to beset with serious failings putting lives at risk.
"In every report, staff in SECAMB have been commended for their dedication, professionalism and caring behaviour towards patients and it is high time that the managers and directors under Mr Mochrie listened to the GMB members.
"They are demanding a change in culture and simply expect the same high standards from their leadership and GMB union will continue to lead the campaign for change."
Contact: Elizabeth Whitfield on 01273 570126 or 07583 182085
[1] http://hansard.parliament.uk/lords/2017-11-01/debates/78E698C2-FCC2-4DEC-87A3-8D7FA38A9F5B/SouthEastCoastAmbulanceService