GMB slams Carillion over pay cuts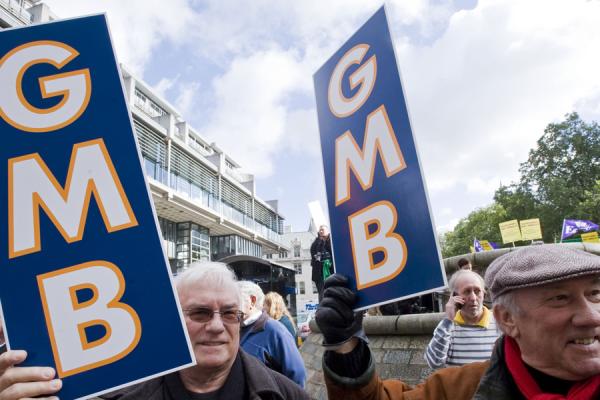 GMB, the union for cleaning staff, has learned that Carillion intends to reintroduce pay cuts and shift changes for cleaners working at Nationwide that had previously been abandoned after GMB protests.
The cuts had been planned to go ahead earlier in the year but were cancelled following a series of protests outside Nationwide headquarters in Swindon. Following an ICO raid in 2009 it came to light that Carillion had been directly involved in the blacklisting of construction workers. The company also faces allegations of inhumane conditions for its part in the construction of sites for the 2022 Olympics in Qatar.
On Thursday 4th August, GMB will hand a copy of an apology from Carillion to blacklisted workers to Nationwide's head of procurement as well as a copy of a damning BBC report on Qatar 2022 Olympics construction detailing the appalling work practices that are reportedly rife under Carillion. In 2013, the International Trade Union confederation estimated that as many as 4,000 people may die before the ribbon is cut on the final stadium. GMB has learned that Nationwide are due to sign a further contract with Carillion to provide facilities services, and are calling for nationwide to disassociate itself with Carillion.
Carole Vallelly, GMB regional organiser, says "Nationwide market themselves as an ethical company, but we believe that their association with a company like Carillion calls this into question. It is beginning to seem as though Nationwide deliberately employs cleaners through contractors to keep its own hands clean, while letting Carillion do the dirty work to save Nationwide money. Carillion's involvement in the scandalous practice of blacklisting has been well documented, as has its involvement with the absolute appalling conditions of the Qatar workers.
Nationwide's image is tarnished by its involvement with Carillion, and we call upon the company to disassociate itself from Carillion completely. In April this year, Carillion told the cleaners at Nationwide house were told that they would receive living wage of £8.25 per hour. At the same time, the cleaners were told their shifts would change and that they would lose hours leaving most of the staff £40 worse off every week. The changes to the shifts also meant many workers would be unable to continue working, as the new shifts are incompatible with childcare.
After the GMB announced a ballot for industrial action, these proposals were withdrawn, and Carillion said it had 'listened to feedback and concerns.' Now, it seems that Carillion simply postponed changes to the terms and conditions of cleaners at Nationwide House, in order to disguise the connection to the implementation of the living wage. In order for Carillion and Nationwide to hold themselves up as ethical employers, these measures had merely been put on ice in the full knowledge that a few months down the line they would be clawing back any extra outlay by reducing the cleaners' take home pay. Is this the sort of company Nationwide want to be associated with? Have no doubt, you will be judged by the company you keep."