GMB slam ISS pay harmonisation project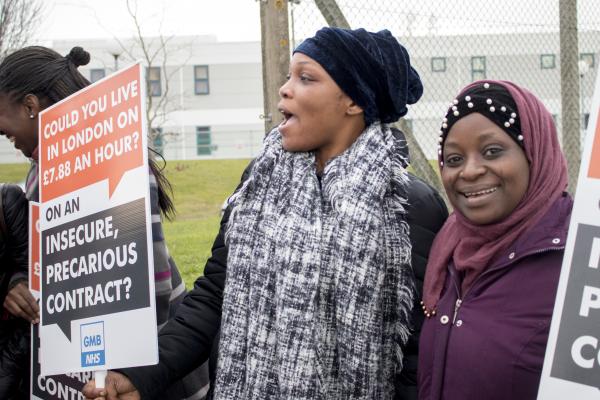 "It is outrageous that a multi-million pound global company like ISS are demanding that low paid workers take out a loan to enable the company to change the pay cycle so that they can further boost their profits", says GMB Southern
GMB, the union for ISS staff, have slammed the ISS pay harmonisation project, designed to save costs at the workers' expense. ISS, who hold the cleaning, catering and portering contracts at Kingston Hospital, Queen Elizabeth Hospital, Queen Marys Hospital and the Princess Royal Hospital, want to save costs by moving workers paid weekly over to twice weekly causing them to suffer a shortfall in pay.
The recent announcement by ISS that they plan to disrupt all of their current pay dates is causing GMB members working in the major hospitals across south east London, to see red. Workers are organising themselves to take out mass grievances at the hospitals.
The company has further inflamed GMB members by suggesting that they should take out a bridging loan to deal with the shortfall in pay.
Helen O'Connor, GMB Organiser said: "ISS have completely alienated their workforce in Kingston Hospital by failing to meet the most basic demand for sick pay from day one. The #kingstonhospcampaign is ongoing and it has now reached the heart of government as Matt Hancock has pledged to look into the issue.
"It is outrageous that a multi-million pound global company like ISS are demanding that low paid workers take out a loan to enable the company to change the pay cycle so that they can further boost their profits. These workers live hand to mouth and their lives will collapse if they have to live a week without pay. Many won't be able to secure any sort of credit for themselves and their families to tide them over.
"The ISS pay harmonisation project is designed to save costs at the workers' expense. ISS workers across the hospitals are hopping mad over this latest injustice and they have made it clear to their union that they are ready to go to the barricades over this!"
Contact: Helen O'Connor 07506 711 574 or GMB Southern Press Office 07970 114762