GMB scores 'significant win' as ISS increases pay for cleaners at Lewisham Hospital following pay dispute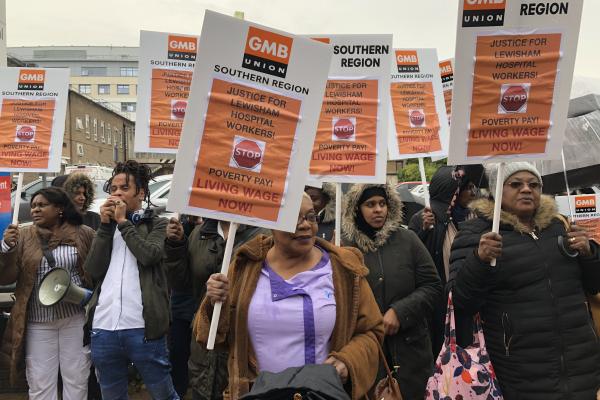 "These brave hospital cleaners endured threats and bullying throughout their dispute," says GMB Union 
GMB Union has scored a significant win for cleaners at Lewisham Hospital after private outsourcing company ISS upped their hourly rate of pay.
The cleaners had downed tools and walked off the job in February after ISS botched their wages – meaning they weren't underpaid for several weeks. [1]
ISS threatening to pull the promised pay rise in light of the dispute - but the cleaners were widely supported by GMB, councillors and the local community.
Today, the wage increase has now been paid in full - with backpay - which brings the cleaners hourly rate of pay up to £10.55 an hour.
Helen O'Connor, GMB Organiser, said: "This is a significant win for GMB Union and our members.
"We have long campaigned for outsourced workers in Lewisham Hospital to be paid the London Living Wage and have held a number of protests outside the hospital which were backed by the community and the TUC.
"These brave hospital cleaners endured threats and bullying throughout their dispute, but their persistence has now paid off.
"Our members want to thank everyone who supported their pay campaign.
"The success of the Lewisham Hospital campaign shows that when unions and communities work together to stand up for themselves ,they can and do win against corporate power."
Media enquiries: GMB Press Office on 07958 156846 or at press.office@gmb.org.uk
[1] https://www.gmb.org.uk/news/cleaners-coronavirus-hit-hospital-walk-out-after-not-being-paid