GMB say deteriorating hospital standards are result of privatisation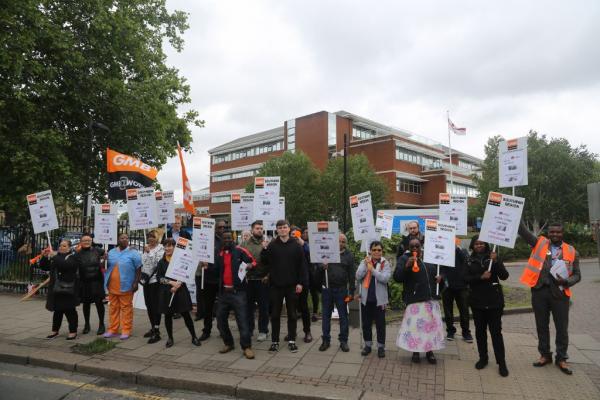 "This is a matter of life and death for hospital patients and it's a matter of survival for NHS workers and their families", says GMB Southern
GMB have said that outbreaks of hospital acquired diseases such as Listeria and MRSA are a direct consequence of lowered standards arising from cutbacks by private contractors working in the NHS, such as Mitie.
For the last 30 years the privatisation of public services and the NHS has gathered pace, and the introduction of private finance initiative (PFI) has led to costly smaller hospital units with inadequate ventilation being built all over the UK. PFI along with the outsourcing of hospital cleaning is what GMB believe has led to the rise in hospital acquired infections, as patients have contracted additional diseases following admission for routine procedures in their local hospital.
Health Secretary, Matt Hancock, has ordered a 'root and branch' review of hospital food provision following the deaths of five patients from Listeria. This is a sign of the pressure building on the government however GMB is doubtful that any food 'root and branch review' will deal with the real cause of deteriorating hospital standards - privatisation.
Helen O'Connor, GMB Regional Organiser said: "If you want to find a concrete example of what privatisation is doing to the NHS, the mounting GMB Union campaign against private company Mitie at St George's Hospital is illuminating. Mitie are cutting hospital cleaners hours and making 40 staff redundancies but the hospital itself, or the population it serves, are not getting any smaller.
"Mitie are also proposing to have cleaners handling patient's food which is a cross contamination risk to the patients at St George's Hospital. The cleaners and catering staff are struggling to cover the work that needs to be done to keep the hospital safe within their existing hours and they know that this cutback will harm the patients. That is why they are joining GMB Union and fighting back.
"Unlike directly employed NHS workers, Mitie workers are only entitled to statutory sick pay (SSP) if they are sick themselves so many are forced to come into work when they are unwell which is an additional cross contamination risk for the patients.
"The privatisation of the NHS is a failure on every level and the truth is that Listeria, MRSA and other hospital acquired diseases are the direct result of the lowered standards that arise from the cutbacks resulting from privatisation. This is a matter of life and death for hospital patients and it's a matter of survival for NHS workers and their families.
"In St George's Hospital, GMB has started on the urgent task of uniting all hospital workers, patients and the public in order to fight against the deadly impact of cuts to hospital cleaning. Privatisation was never about efficiency. Privatisation is driven by right wing ideology that talks about rolling back the frontiers of the state without giving a moments consideration to the catastrophic impact if has over public services and those who deliver and require them."
Contact: Helen O'Connor 07506 711574 or GMB Southern Press Office 07970 114762