GMB protest outside Portsmouth Council Meeting on Tuesday 13th December over proposed budget cuts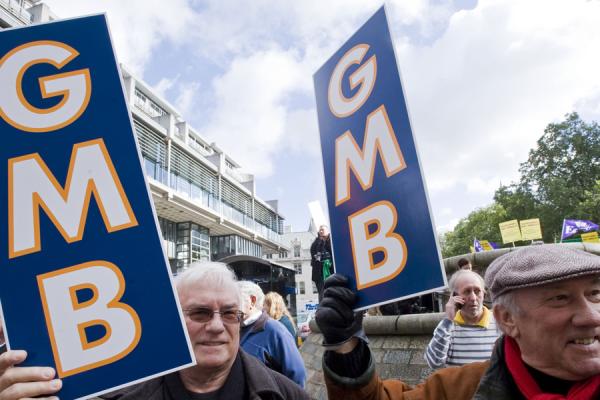 GMB will hold a demonstration outside Portsmouth City Council offices on Tuesday 13th December against proposed budget cuts of £9m for 2017/18.
These further proposed cuts come after years of budget cuts when Children's Services and Adult Social Care had a degree of protection at the expense of other council departments. Proposed budget cuts for 2017/18 would see £300,000 cut from children's social care and nearly £1.4m from Adult Social Care. (See notes to editors for full list of proposed cuts)
The demonstration will start at 1:15pm on Tuesday 13th December 2016 at the following address:
Outside Portsmouth City Council Civic Offices
Guildhall Square
PO1 2AL
Frank Minal, GMB Organiser says, "We are at a tipping point. There is nothing left to cut without tearing the heart out of council services. None of us know if protesting on 13 December will change things. What is certain is that if we do nothing the cuts will go ahead, people will suffer and staff will become even more demoralised and dissatisfied with their jobs. By showing GMB don't agree with these cuts it will put pressure on the Council and show the people who use council services where GMB stand.
Some of this year's proposed budget cuts will be impossible to implement but trying to do so will cause deep distress to staff and the people who rely on these services. Huge amounts of resources will be wasted.
Portsmouth City Council's proposed budget savings this year are truly appalling for the population of the city, for council employees and for anyone working in the NHS and other services.
GMB is working with other Trade Unions to oppose these cuts. Trade Unions are only as strong as their collective members, so now is the time to show you oppose these cuts to jobs and services. If any Portsmouth City Council employees can make it on the day, please ensure you take a lunch break on Tuesday 13th December and if you work outside the City Centre, please use time off in lieu/flexi time, so as many of us as possible can gather together outside the Guildhall as Councillors go into the budget meeting. There has never been a more important time to stand up for Public Services.
Contact: Frank Minal on 07713079930
Notes to editors:
1 Agenda and minutes for Full Council meeting, Tuesday 13 December 2016
http://democracy.portsmouth.gov.uk/documents/g3273/Public%20reports%20pack%2013th-Dec-2016%2014.00%20Full%20Council.pdf?T=10
Proposed budget savings amounts 2017/18
| | |
| --- | --- |
| Children's Social Care | £300,000 |
| Culture, Leisure and Sport | £343,000 |
| Education | £212,000 |
| Environment and Community Safety | £87,000 |
| Governance, Audit and Standards | £30,000 |
| Health and Social Care – Adult Social Care | £1,382,000 |
| Health and Social Care – Public Health | £602,000 |
| Housing | £179,000 |
| Planning Regeneration and Economic Development | £928,000 |
| Resources | £961,400 |
| Traffic and Transportation | £330,000 |
| Other Savings | £3,645,000 |
| TOTAL | £9,000,000 |