GMB protest in Eastbourne over cuts in county council budget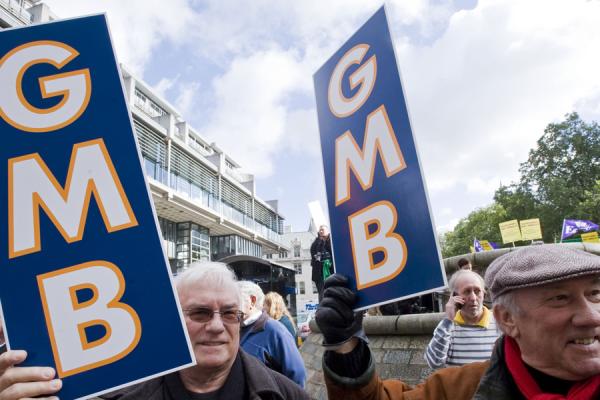 GMB protest in Eastbourne on Sat 30th January over cuts in East Sussex County Council budget at February council meeting
Council leader has acknowledged that the cuts will 'significantly reduce the quality of life for many people in East Sussex' says GMB
GMB is joining a protest in Eastbourne on Saturday 30th January over cuts to be voted on at a full meeting of East Sussex County Council on 9th Feb that will significantly reduce the quality of life for many people in East Sussex. The council has to make further cuts of between £70m to £90m by 2019.
The details of the protest are as follows:
From 11am-1pm on Saturday 30th January,
Bankers Corner,
Terminus Road.
Eastbourne.
Rachel Verdin GMB Organiser said "Council leader Cllr Keith Glazier has acknowledged that the cuts due to be voted on at a full council meeting in February will 'significantly reduce the quality of life for many people in East Sussex'. Those feeling it the most will once again be those already marginalised.
GMB is calling on East Sussex Council to address the increasing inequality that cuts such as these only make worse.
GMB welcome the proposal to increase the council tax with a social care levy but still find the degree of reductions too much to bear. The joint letter to the PM signed and sent by all political group leaders shows the extent of the opposition to central governments impossible scale of reductions. We welcome the letter but call on them to do more or risk letting down the people they are representing. The latest round of cuts which will decimate services in adult social care to public health and children's services are not only crippling in themselves but the impact of them will sent shock waves through the area for years to come.
GMB have already called on the best paid in the authority to feel the pinch alongside those further down the pecking order. We know that the top 6 posts of East Sussex Corporate Management team are paid in excess of £1m with on
–costs like national insurance. This is not a glib comment, we are clearly aware of the importance of good management, but feel that with another £70-£90 m worth of savings to be found by 2019 those at top of the authority should lead by example.
The proposed impact of services facing the axe is astounding and we know that the knock on effect will shape the needs of residents, families and service users for years to come. "
End
Contact Rachel Verdin on 07931 796733 or 01273 570126 or GMB press office 07974 251 823 or 07921 289880