GMB protest at Nationwide HQ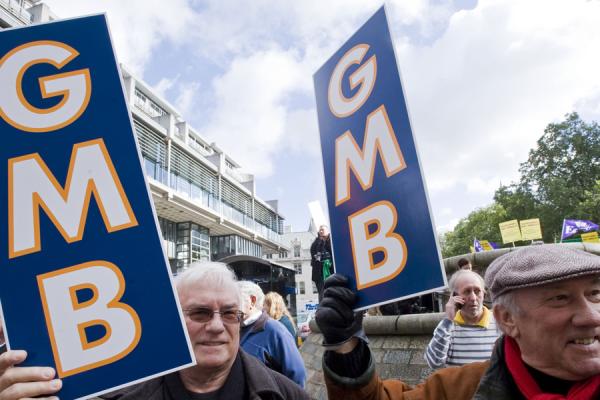 GMB, the union for cleaners at Nationwide, will hold a protest outside the building society's headquarters in Swindon over subcontractor Carillion's refusal to communicate with staff about changes to holiday entitlement.
In 2004, cleaning staff at Carillion agreed to a reduced pay rise in exchange for the ability to take paid holiday entitlement in long blocks. Earlier in the year, Carillion imposed a new holiday arrangement limiting cleaning staff to a maximum of two weeks off at one time without consultation with GMB or its members.
GMB members will protest on Tuesday 5th July holding banners saying "Nationwide and Carillion, judged by the company you keep." GMB will also hand Nationwide's head of procurement a copy of an apology from Carillion to Blacklisted workers following their involvement in the blacklisting scandal. GMB believes that Nationwide Building Society's claim to be an ethical employer is revealed to be false their association with Carillion.
GMB members will assemble at 8:30 am on Tuesday 5th July at the address as follows:
Nationwide House
Pipers Way
Swindon
SN3 1TA
Carole Vallelly, GMB Regional Organiser, said "Every single cleaner working at Nationwide is a GMB member. Our members had a grievance over changes to the holiday arrangements, and Carillion had agreed a sensible way forward to meet them all together and discuss. Then, on the day of the meeting, Carillion cancelled it and told the cleaners that they would all have to go and see the managers individually.
Our members feel that this change was intended to intimidate them, and that it shows that Carillion are dismissive of their concerns. Along with the letter cancelling the collective meeting, Carillion included as justification a policy written by Liz Keates, their HR Director. GMB has a great deal of experience with Liz Keates from her involvement in the unethical practice of blacklisting.
In May, Carillion, alongside other Construction companies made an agreed statement in court where they apologized and admitted to the misuse of personal information in breach of the Data Protection Act 1998, in order to conduct a secret vetting operation that denied employment to thousands of blameless individuals. On the very day that Carillion made that statement in court, Nationwide Building Society, a so-called ethical employer, signed a renewal for 7 years of their own contract with Carillion.
To make sure that Nationwide are fully aware of the kind of company Carillion are, we will hand them a copy of the statement made by Carillion."