GMB members working for Wandsworth Council contractor continue to strike over pay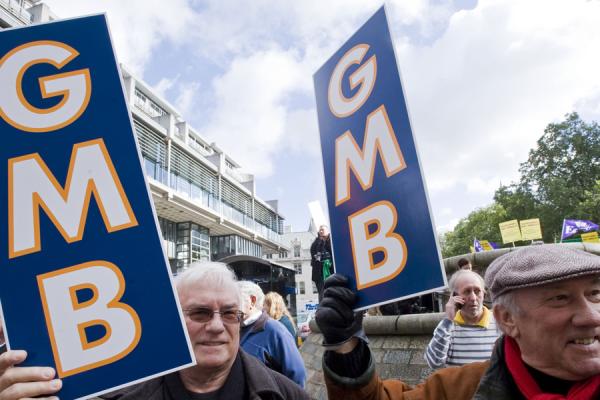 GMB members working for Continental Landscapes as drivers and street cleaners on the Wandsworth Council contract are to hold the second of a series of 2 day walk outs on 22nd and 23rd March over pay.
The strike will start at 6am and there will be a demonstration at the following address:
Continental Landscapes Limited
Battersea Boat Yard
The Causeway
Wandsworth
SW18 1ER
There will also be a demonstration outside Richmond Town Hall from 9.00am on Wednesday 22nd March and a demonstration outside Wandsworth Town Hall from 9.00am on Thursday 23rd March.
There will be members with flags and union banners on picket duty. GMB officers and members will also be available for interview.
Wandsworth Council and its contractor have ignored requests to raise staff pay from £7.50 an hour to the real living wage set by the living wage foundation of £9.75.
Continental Landscapes have an operating profit of £2.5 million in 2016, a rise of 25.6% since 2015, on a turnover of £29.8m.
The directors have paid themselves over £1.8 million on bonuses since 2012, companies' house records show there are 2 significant properties owned in the UK and 1 in France. The company holds a healthy cash reserve of over £5.5 million.
Paul Grafton, GMB Regional Officer said, "The directors of Continental Landscapes are simply promoting modern day slavery within Wandsworth and yet the Council show no interest and appear to be happy to see the staff earning so little.
"GMB is calling on Wandsworth and Richmond Councillors to sign a petition and to table a motion that no Council contractor should earn less that the living wage when working in the joint shared boroughs of Wandsworth and Richmond.
"GMB members employed by Continental Landscapes undertake significant manual work for a pittance of £7.50 an hour leaving some staff struggling to pay for the most basic of needs yet the directors swan around in their luxury cars and relax in their plush homes in the UK and France. The real cost of bringing staff up to £9.75 per hour could be easily met by Continental Landscapes and still leave a very healthy profit.
"Since Continental Landscapes have taken on the contract the staff have suffered, not only in having their hours slashed but also the rates of overtime reduced at weekends and evenings. Some staff will also be losing a further £150 a month as a result of the continual cuts on the contract."
Contact: Paul Grafton, 07714 239092 or 020 8397 8881
Notes to editors
1) Letter to Councillors
Dear Councillors,
I understand that at the recent Standards Committee meeting there were discussions surrounding Wandsworth and Richmond Contractors not paying the living wage of £9.75 per hour. There were numerous contractors named, Continental Landscapes being one of them.
Whilst I await the minutes of the meeting, GMB members employed by these contractors have asked me to call on Councillors to deal with the following issues.
1, To ask you all to table a motion to Committee stating that no contractor in Wandsworth or Richmond councils can pay less than the living wage.
2, Ask Councillors to sign and support the GMB campaign to ensure the staff that sweep your streets are paid at a rate not below the bread line. The petition can be signed here: http://tinyurl.com/h7rrtco
3, Demand an end to municipal Contractors in Wandsworth and Richmond and to bring these lucrative contracts back in house.
Further strike days this week are;
Wednesday 22nd at Continental Landscapes, then a demonstration outside Richmond Town Hall
Thursday 23rd at Continental Landscapes, then a demonstration outside Wandsworth Town Hall.
Yours sincerely
Paul Grafton