GMB members at Reading tile factory vote overwhelmingly for Strike Action over sackings of 'Marley Five'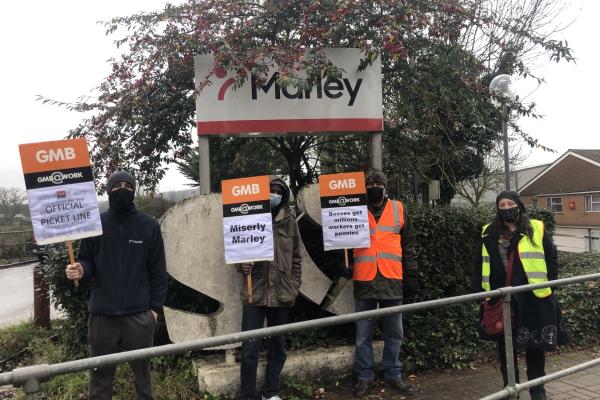 Marley Tiles' boss 'drover car at workers' during lawful strike says GMB Union 
GMB members at Marley Tiles, in Beenham, near Reading, are set to strike after three workers were sacked following lawful industrial action.
More than 90% of union members voted to strike in support of 'The Marley Five' – three of whom have now been sacked.
Hundreds of people have now signed an online petition calling for the workers to be reinstated [1], while GMB has commenced legal proceedings against the company.
A dispute over pay at the factory led to strike action in December 2020. During the industrial action a member of the management team drove his car at workers, GMB says.
The same manager then instructed a lorry driver to head straight for the picket line, workers say.
The incidents were reported to the police - but instead of taking action against the manager, the company suspended five long standing members of staff.
Now, after lengthy and bitter disciplinary proceedings, Marley chose to sack three workers with exemplary records and over 101 years' service to the company.
The other two workers received final written warnings.
Nikki Dancey, GMB Regional Organiser said: "GMB members have now been balloted formally over these attacks on their colleagues and their right to strike.
"The overwhelming majority have voted in full support of 'The Marley Five', as they have become known.
"Workers are shocked and angry to lose their colleagues, whilst the manager who caused both dangerous incidents receives no action or sanction at all from the company."
[1] https://www.gmb.org.uk/campaign/bring-marley-5-back-work