GMB members to picket outside ISS offices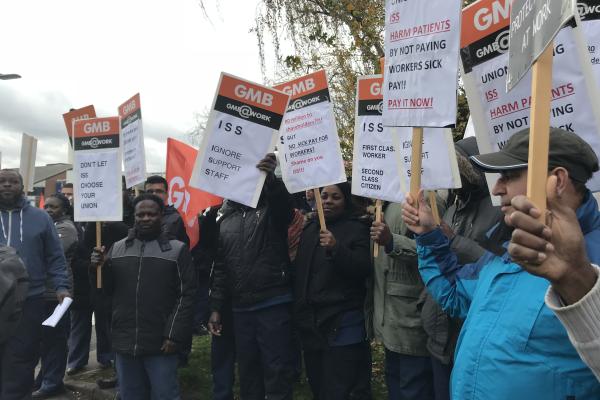 "Our members are angry at ISS and they will continue to fight for sick pay and the London Living Wage", says GMB Southern
GMB, the union for ISS staff at Kingston Hospital, will be picketing outside the offices of NHS private provider ISS on Tuesday 19 February, demanding they pay sick pay and a living wage to hospital cleaners, porters, caterers and security workers.
The picket follows the successful 'March for Hospital Workers Rights' which took place on Saturday 2 February outside Kingston Hospital and was attended by over 150 people.
Details of the protest are as follows:
Tuesday 19 February
9:00 AM
South Quay Building
189 Marsh Wall
London
E14 9SH
A giant inflatable rat will feature as part of the picket to represent private companies like ISS taking over the NHS and creating a health hazard for hospital workers and patients by forcing their workers to go into work sick due to low pay and an inadequate sick pay schemes.
The majority of Kingston Hospital ISS workers belong to GMB Union and membership is still growing fast as a result of a six month GMB campaign against the exploitation of these workers by ISS. Two big protests were held in November and December 2018 which reflect the growing anger and frustration of the ISS workforce at Kingston Hospital as both the trust and ISS continue to ignore the fact that workers are forced to come into the hospital when they are unwell.
Helen O'Connor, GMB Regional Organiser said: "GMB recognises that ISS workers from across London are also experiencing poor terms and conditions and we are encouraging them to join our picket line as part of our strategy to hold this employer to account. GMB members are angry at ISS and they will continue to fight for sick pay and the London Living Wage.
"One worker who suffered a stroke and was off sick for more than 3 months did not receive a penny in sick pay from ISS."
Contact: Helen O'Connor 07506 711574 or GMB Southern Press Office 07970 114762
Notes to Editors:
1] GMB welcome meeting between Steve Reed MP and Secretary of State for Health on ISS crisis (7 February) https://www.gmb-southern.org.uk/gmb-welcome-meeting-between-steve-reed-mp-and-secretary-of-state-for-health-on-iss-crisis.html
2] GMB calls for urgent action from the health secretary after ISS denies sick pay to stroke victim (5 February) https://www.gmb-southern.org.uk/news/gmb-calls-urgent-action-health-sec-iss-denies-sick-pay
3] GMB to step up Kingston Hospital campaign following successful march (30 January) https://www.gmb-southern.org.uk/news/gmb-to-step-up-kingston-hospital-campaign
4] GMB ISS members to 'March for their Rights' at Kingston Hospital https://www.gmb-southern.org.uk/news/gmb-iss-members-march-for-their-rights-kingston-hospital
5] GMB members boycott ISS Christmas lunch https://www.gmb-southern.org.uk/news/gmb-members-boycott-iss-christmas-lunch
6] GMB protest at Kingston Hospital to go ahead on Thursday 20 December (19 December) https://www.gmb-southern.org.uk/news/gmb-protest-at-kingston-hospital-to-go-ahead-thurs-20-dec
7] "GMB to hold further protest outside Kingston Hospital" (7 December) https://www.gmb-southern.org.uk/news/gmb-to-hold-further-protest-outside-kingston-hospital