GMB members at Brighton and Hove Cityclean show support for industrial action ballot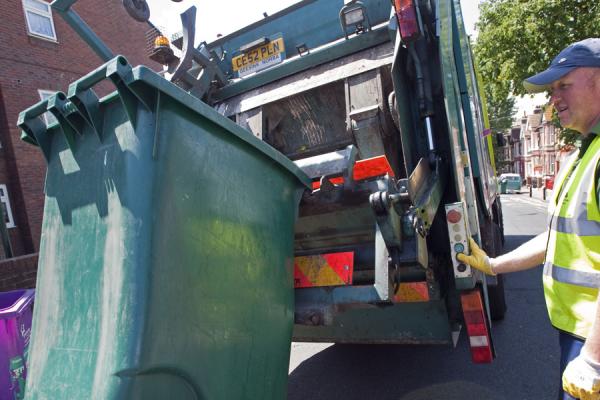 "The ball is firmly in the Chief Executive's court, he can now bring us to the table to discuss this calmly with ACAS involvement or go through a prolonged industrial action dispute", says GMB Southern
GMB have formally today provided Geoff Raw, Chief Executive of Brighton and Hove City Council with the outcome of the recent GMB consultative ballot over declining industrial relations brought about through some Cityclean depot management's anti-trade union behaviour.
The consultative ballot, an internal step for the GMB union which from a 90.6% return has seen members voting 91.8% in favour of supporting their union through affirmative strike action if required. This means that GMB will now move to issue formal notice to the council of the intention to appoint the Electoral Reform Society as independent scrutineer to carry out an industrial action ballot on behalf of the union, unless the Chief Executive is prepared to undertake meaningful conciliations through ACAS.
The full consultative ballot result was (on a return of 90.6%):
Action up to and including Strike Action - 91.8%
Action short of strike action - 92.9%
Mark Turner, B50 Branch Secretary, said: "GMB has listened to its members on this matter. Their overwhelming support for their GMB Reps, who through supporting members in the workplace, has placed themselves on some anti-trade union managements radar and are as a consequence suffering from being singled out in the workplace and subjected to stalking like observations of their every move.
"This result shows that members are clear in saying that this has to stop and they, like their union, are looking towards those in charge of the service to respond to those wishes. If not, they're unmistakably showing with this result that they are prepared to take affirmative action against the employer. After completing the legal requirements around industrial action and formal ballot process to do so then that's what our members will do.
"We have throughout the consultative stage and will continue to do so through any formal stages of a ballot process, offered the chance to resolve this matter to the council though the conciliation procedure if managed by ACAS. However, I'm not sure that's what the Chief Executive wants as he has failed on several occasions to distance himself from the actions of some of his management team who have brought us to the edge of a dispute in the first place.
Gary Palmer, GMB Regional Organiser said: "It will be interesting to see with the new council in place, if they instruct the Chief Executive, who of course works for the elected Councillors and City to get off the fence and deal with the issue to avoid any problems for the Street cleansing, Refuge and Recycling service over the coming months, or they allow him to carry on what he does best 'Nothing'.
"The ball therefore is firmly in the Chief Executive's court, he can now bring us to the table to discuss this calmly with ACAS involvement or go through a prolonged industrial action dispute to find ourselves back around the table with ACAS to conciliate several months down the road.
"What we can't do is allow the current situation to go on; the support of oppressive treatment of GMB Workplace reps and interfering with the legal rights of members and reps to choose who represents them appears to go to the very top of the paid service at the council, and that spells danger for working relationships going forward possibly even within wider areas inside the city and other services, as GMB Reps throughout the council consider putting in subject access requests to see if they have had similarly information and opinions gathered about them."
Contact: Mark Turner 07860787973 or Gary Palmer 07552165950 or GMB Southern Press Office 07970 114762