GMB members boycott ISS Christmas lunch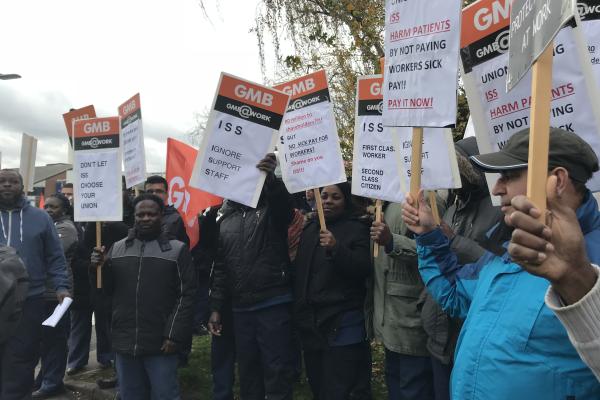 "ISS will find that they won't be able to buy off our members with a free lunch or dampen their resolve to fight for the same terms and conditions as all other NHS staff get", said GMB Southern
On the eve of the second GMB protest outside Kingston hospital, every member of the 300 strong ISS workforce have participated in a boycott of a lunch put on by the company.
GMB members are staging their second protest against ISS outside Kingston Hospital on Dec 20th at 12:30pm because they are angry about poverty pay and having to come into work sick because their scrooge employer ISS doesn't have a sick pay scheme.
Helen O'Connor, GMB Regional Organiser said: "The boycott of the Christmas lunch is a reflection of the anger of GMB members at the way they are treated by ISS managers on a daily basis.
"Our members' jobs are vital to the smooth running of Kingston Hospital and they are fed up of being treated like second class workers in the NHS.
"ISS will find that they won't be able to buy off our members with a free lunch or dampen their resolve to fight for the same terms and conditions as all other NHS staff get.
"The second protest will be even bigger and noisier than the last and action will be escalated into the new year if ISS fail to meet our members' demands."
Contact: Helen O'Connor 07506 711574 or GMB Southern Press Office 07970 114762
Previous GMB Press Release
1] GMB protest at Kingston Hospital to go ahead on Thursday 20 December (19 December)
https://www.gmb-southern.org.uk/news/gmb-protest-at-kingston-hospital-to-go-ahead-thurs-20-dec
2] "GMB to hold further protest outside Kingston Hospital" (7 December)
https://www.gmb-southern.org.uk/news/gmb-to-hold-further-protest-outside-kingston-hospital